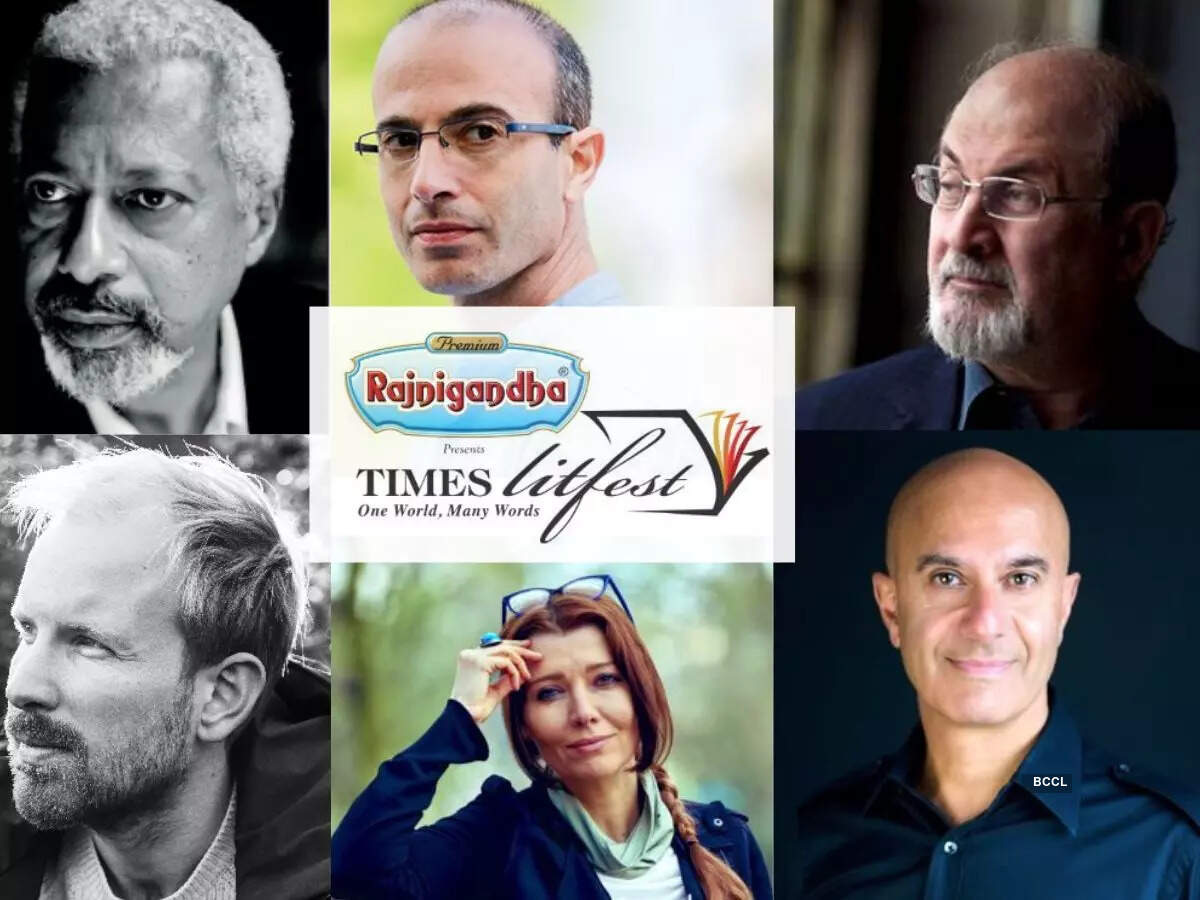 After a two-year hiatus due to the coronavirus pandemic, the Times Literature Festival re-emerged in its physical avatar with a bang this year. On February 11 and 12, 2023, the Times Literature Festival (TLF) was held at the Siri Fort Auditorium in New Delhi, bringing together the world's greatest names and literary thinkers, international and Indian best-selling authors, literary agents and publishers – all under one roof! This gives Times Litfest Delhi 2023 the status of the only festival in the world to host so many big names in one edition!
The list of participating authors includes some of the world's greatest writers, speakers and thinkers. Has any literary festival ever interviewed Salman Rushdie, Yuval Noah Harari, Rutger Bregman, Elif Shafak, Robin Sharma, two Booker Laureates Douglas Stuart and Shehan Karunatilaka, International Booker winner Geetanjali Shree, and Nobel Laureate Abdul Razak Gurnah – all in one single release? The Times Literature Festival 2023 achieved this feat by intelligently intertwining physical and digital events and combining interviews that had been conducted exclusively at the Times Literature Festival for some time. Several physical interactions, such as Yuval Noah Harari and Robin Sharma, have been recorded exclusively to be played for the first time at the Times Literature Festival 2023.
During the two-day literary event, the 120 participating speakers exchanged views and opinions in inspiring sessions. TLF hosted both – 2022 Booker winner from Sri Lanka, Shehan Karunatilaka ("Seven Moons of Maali Almeida") and 2022 International Booker winner from India, Geetanjali Shree ("Tomb of Sand"). Both Shree and Karunatilaka had their individual sessions where they talked about their work and writing path, as well as panel discussions. Shree, when asked why her Booker-winning book starts slowly and then picks up speed, said, "Why are you in such a hurry… People who have read this book know that things are slow; enjoy it, as with music, raga. Why are you so strict about your time with books? Asked if he had any advice for aspiring young authors, Karunatilaka said, "Only write when you find a story that won't leave you alone and only you can tell it the way it should be told."
Festival Director Vinita Dawra Nangia said, "Times Litfest Delhi 2023 was a two-day frantic fiesta of literature and ideas where audiences could hear speeches, interviews and views from some of the world's greatest contemporary writers and thinkers. Never before have many of the world's most admired and respected writers and thinkers been available in one place – physically or digitally. We are lucky to be the first to receive this privilege. I strongly encourage those who missed this year's literature festival to catch the great in our films."
2021 Nobel Prize in Literature winner Abdulrazak Gurnah, international bestselling author of "Homo Sapiens" Yuval Noah Harari, and self-help author Robin Sharma were interviewed exclusively by TLF and their recorded videos were played as part of the festival, which garnered much attention and praise from the public. Several other video interviews were also recreated as part of this year's festival, from the previous online TLF in 2021. These included interesting interactions with Salman Rushdie, Elif Shafak, 2020 Booker winner Douglas Stuart, Rutger Bregman and Harlan Coben. It was noted that most of these recorded sessions were held in full halls, with interested listeners taking notes of what the greats had to say.
Gurnah is known for exploring themes of migration, refugees and fractured identities. Speaking to Alexandra Pringle, executive editor at Bloomsbury Publishing, Gurnah – himself a refugee in the UK – talked about what inspired him to write on these topics, his journey as an author and winning the prestigious Nobel Prize in Literature. "I have not met these people (refugees), not even in the books of writers from Africa or other parts of the world. The first thought was to write about them, the stories that have not been told," he said.
Speaking about fiction and author responsibility, Salman Rushdie said in a session with Vinita Dawra Nangia: "In many ways, fiction is the opposite of a lie. The purpose of literature is to tell who and who we are and to get closer to human truths, while the purpose of lying is to obscure the truth. That's why authoritarians have historically attacked writers."
"Indifference is the greatest threat to humanity today. Inequalities in the world are deepening and widening and feeding on us. Therefore, instead of being a person focused on one problem, we need to see connections. And we must not forget that we are citizens of humanity first," said Elif Shafak, Turkish-British writer and activist Vinita Dawra Nangia in a taped session for Times Litfest.
In a session with Shashi Tharoor, Rutger Bregman said, "We have to become more optimistic about other people, the human nature of others, and try to trust those around us. Also, it's very important to be more critical of yourself."
Meanwhile, as every year, many of India's best-selling and international authors also showed up at TLF to packed halls. The literary festival was also attended by international masters, including best-selling author Bernhard Moestl and Vietnamese writer and poet Nguyen Phan Que Mai.
Some popular Indian authors who have also been part of the TLF include Ashwin Sanghi, Anand Neelakantan, Preeti Shenoy, Ravinder Singh, Rana Safvi, Anuja Chandramouli, Jerry Pinto, Jeet Thayil of the Booker shortlist and a member of the International Booker jury.
Not only established authors, but also popular celebrity-turned-authors and newcomers were also part of Times Litfest 2023. For example: Indian businessman, former co-founder and managing director of Indian fintech company BharatPe, and the popular face of Shark Tank India, Ashneer Grover made a brilliant a session with the well-known TV commentator, actor and author, Suhel Seth, about his "Doglapan" memories and life experiences. "The term B-school is misleading. They don't teach you how to do business, they just tell you how to get a job," Grover said during his session.
Motivational speaker and author of You Can Win, Shiv Khera, hosted a litfest home session. Lieutenant General (retired) Kanwal Jeet Singh Dhillon, who recently wrote his debut memoir, was also a speaker at the festival.
And how can Bollywood stars stay behind when talking about celebrities? Bollywood stars who wrote their books or screenplays were part of the litfest, which makes it an interesting platform for thinkers from different walks of life. Veteran actress Deepti Naval gave a full house session on her latest memoir "A Country Called Childhood". Filmmaker Vivek Agnihotri in his session spoke about the importance of his film "Kashmir Files" and the plight of the Kashmiri pandits. Actor Amrita Rao and RJ Anmol talked about their debut book, Couple of Things, and what inspired them to write it.
Other big names who had amazing sessions at the festival include Arun Shourie, Barkha Dutt, activist author Meena Kandasamy, feminist author KR Meera, Maroof Raza, former head of RAW AS Dulat, filmmaker and screenwriter Juhi Chaturvedi, author and voice artist Shobha Tharoor Srinivasan, RJ Sukriti, Journalist and Author Priyanka Sinha Jha, Veteran Sports Journalist for Pradeep Magazine, Sunit Tandon – Director of India Habitat Center and President of Delhi Music Society, Navtej Sarna – Former Diplomat Turned Author, Suhel Seth, Suhas LY – IAS Officer and silver medalist of the Tokyo Paralympic Games (2021) and Flag Foundation president, parliamentarian and industrialist Naveen Jindal, among others. Apart from them, many publishers took part in the two-day festival.
To watch all the films from the Times Literature Festival, click here!
Here you can watch all recorded sessions with the world's biggest literary stars.