Known for its stunning red carpet, the Cannes Film Festival has witnessed the presence of many iconic stars over the years. Among them, Aishwarya Rai, the epitome of grace and beauty, consistently attracts attention with her breathtaking appearance. See Aishwarya Rai's timeless appeal at the Cannes Film Festival as she leaves an indelible fashion legacy.
Enter the enchanting land of the Cannes Film Festival, where the magic of cinema intertwines with the glamor of the red carpet. For countless years, this respected occasion has provided the world's most respected stars with a fascinating platform to illuminate the stage. Among these illustrious figures, Aishwarya Rai emerges as a mesmerizing embodiment of elegance and beauty, captivating the hearts of admirers around the world. With every graceful step, Aishwarya Rai leaves an indelible mark on the tapestry of fashion, effortlessly embodying a harmonious combination of grace, style and timeless charm. Join us as we embark on a fascinating odyssey through the Cannes Film Festival, where Aishwarya Rai's magnetic presence and stunning performances have forever etched her name into the revered halls of fashion history. Delve into the glamor and charm that made her an eternal icon as you discover the story of her unforgettable moments on Cannes' cherished red carpet.
Aishwarya Rai's pioneering fashion moments at Cannes
Cannes 2022
Described as "The Birth of Venus" by couturier Gaurav Gupta, Aishwarya Rai Bachchan's Cannes 2022 red carpet ensemble was a masterpiece that captivated all who laid eyes on it. It took an astounding 3,500 man-hours to complete this custom piece, which is a testament to dedication and precision. Adorned with thousands of glass beads, crystals and intricate embroideries, the sculpted and sinewy attire took inspiration from Botticelli's famous painting, exuding an ethereal and divine aura. Gupta's artistic vision transformed Aishwarya into a living sculpture of Venus, symbolizing her timeless charm and unwavering grace. The dress's flawless construction and attention to detail made it an unforgettable red carpet creation, further cementing Aishwarya's status as a fashion icon. Gupta and Aishwarya Rai's collaboration resulted in a fashion spectacle that will be remembered for years to come, showcasing the power of creativity and the transformative nature of haute couture.
Cannes 2019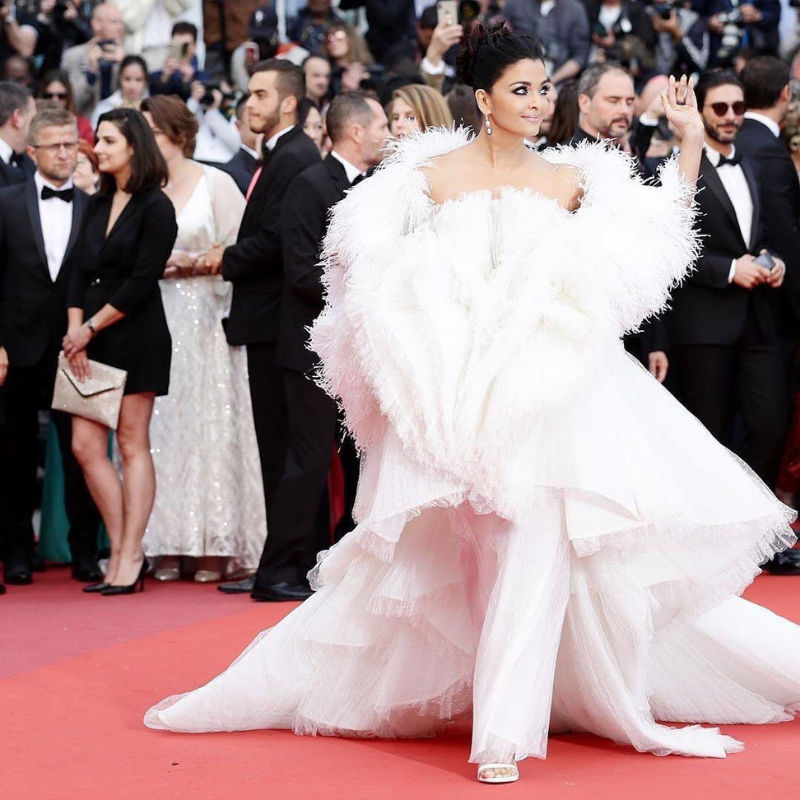 Aishwarya Rai Bachchan continues to boldly present herself on the red carpet of the Cannes Film Festival with her fashion choices. For the 2019 Cannes show, she donned a layered off-the-shoulder gown in a stunning white shade, which was accompanied by a striking cape with feathers. This unexpected set shows her versatility and willingness to experiment. Aishwarya Rai Bachchan's outfit was highlighted by a selection of accessories, most notably a pair of dazzling diamond dangling earrings. To complete the look, she opted for white pins with straps that perfectly complemented the dress. Her hair and makeup were carefully chosen to match the overall aesthetic, including a silver smoky eye, volumizing mascara, matte nude lips, and a sleek bun, adding an element of drama to her red carpet look.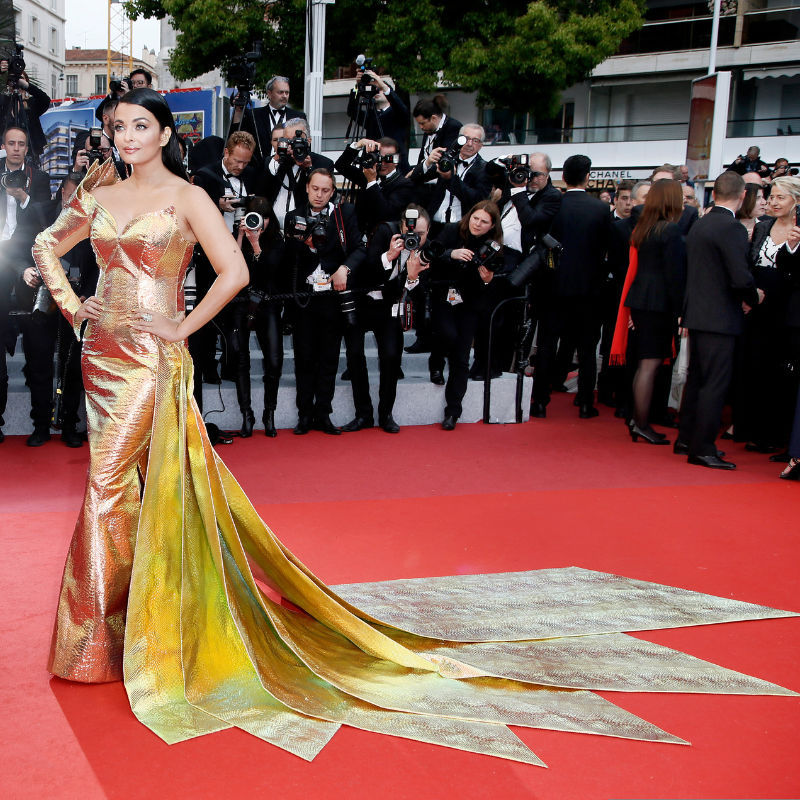 Dressed in a captivating metallic gold gown with dramatic effect by Jean Louis Sabaji, she exuded elegance and drama. The dress featured unique leaf-like cutouts on the bodice, embellished with a snakeskin texture. Aishwarya's ensemble stole the spotlight when she decided to ditch the accessories, bringing the glamorous dress into the spotlight. She completed her look with smooth, straight hair and minimal makeup, with yellow eyeshadow, mascara for added volume, and matte nude lips.
Cannes 2018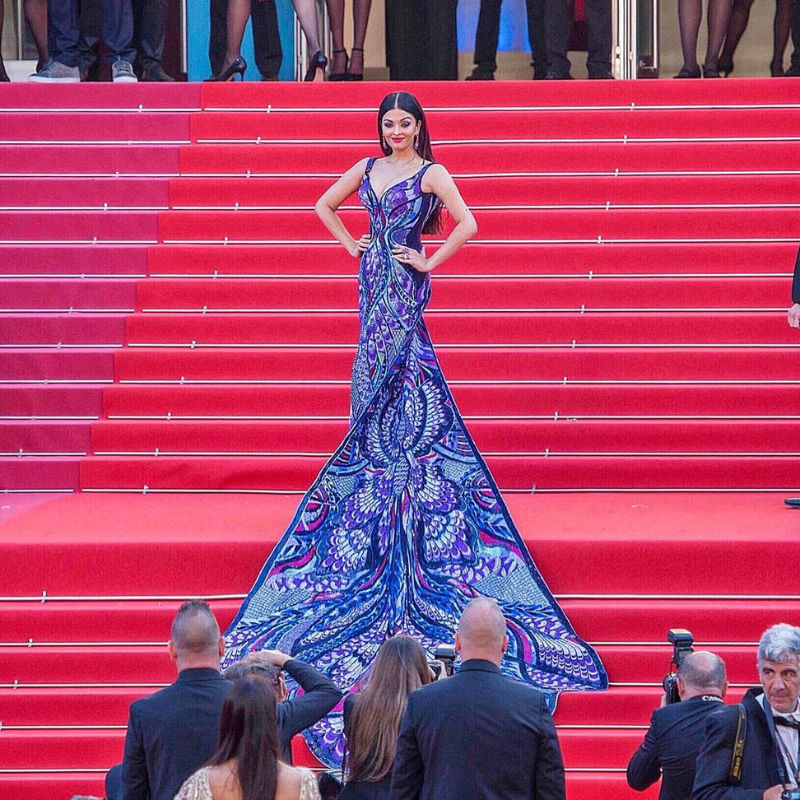 Back in all her glory, the Bollywood superstar collaborated with designer Michael Cinco to create a couture gown that will take your breath away. Inspired by the ethereal transformation of a butterfly, the gown is a mesmerizing display of Swarovski crystals, French palettes and intricate threads in shades of ultraviolet, navy blue and red. The dress has a bodycon fit and a sweetheart neckline that compliments Bachchan's figure perfectly. Adding to the drama, the gown boasts a gorgeous 20-foot train, reminiscent of a butterfly emerging from its chrysalis. With every little detail and 3,000 hours of craftsmanship invested, this masterpiece shines on the red carpet, solidifying Aishwarya Rai Bachchan's status as a true fashion icon.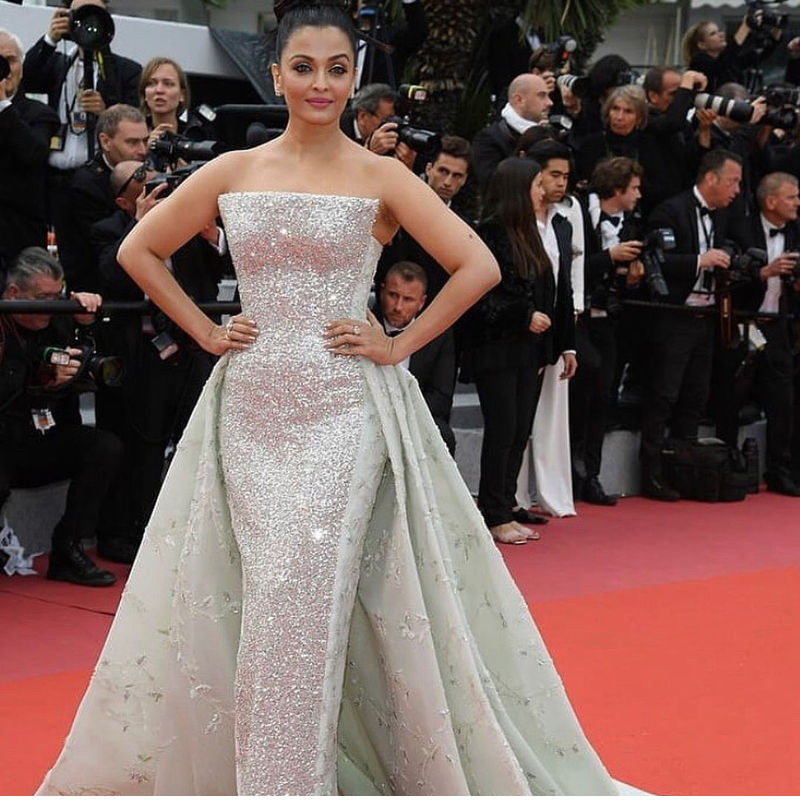 The Bollywood star oozed elegance in a bespoke strapless dress by Rami Kadi. The crystallized dress had gorgeous embroidery and a graceful train, perfectly complementing Aishwarya's regal aura. With her hair styled in a structured bun, her eyes accentuated and a dash of light pink lipstick, she exuded princess charm on the red carpet. Aishwarya's fashion choices never fail to hit the headlines, and this time was no exception.
Cannes 2017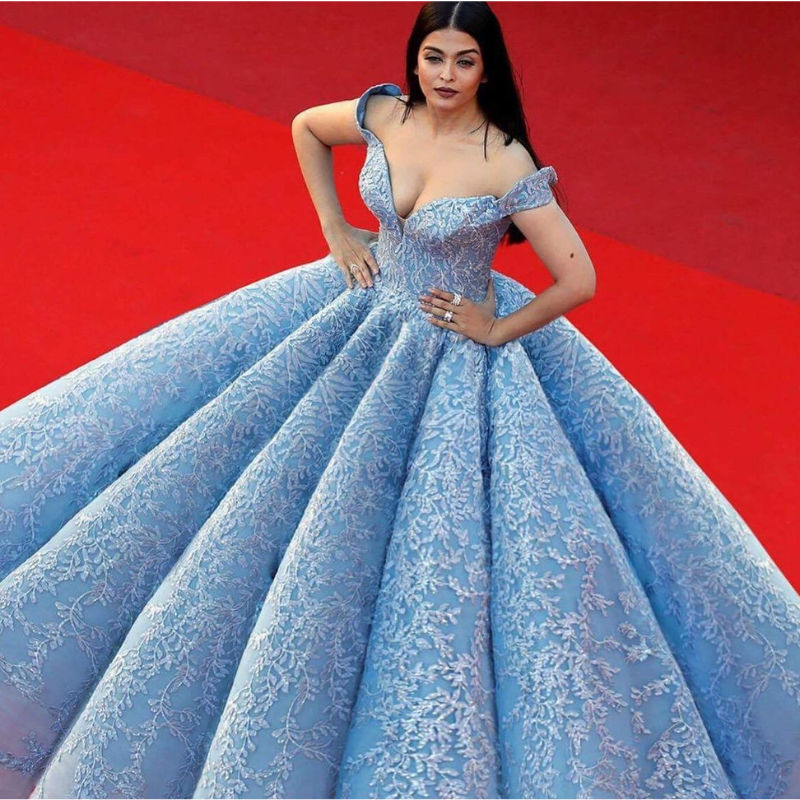 Aishwarya Rai Bachchan lit the fire at the Cannes Film Festival with her stunning entrance, embodying the captivating aura of Cinderella in a breathtaking masterpiece designed by Michael Cinco. The star's red carpet appearance was pure magic, with an enchanting ice blue gown adorned with intricate embroidery and immaculately sculpted pleats. The dress was a harmonious combination of sophistication and drama, creating a mesmerizing effect that left everyone spellbound. With her signature center parted hairstyle and striking red lips, she added an extra touch of glamor to an already dazzling outfit.
Cannes 2016
She made a stunning statement in an embellished rose gold Elie Saab gown. Her red carpet look caught the eye when she appeared at the premiere of Steven Spielberg's The BFG. Referring to the Hollywood vintage style, the dress consisted of a bodice with a neckline and a skirt with a small train. The addition of a simple buckled belt provided a delightful visual break between the embellished bodice and embellished skirt. Aishwarya completed the set with rose gold jewelry by Boucheron and elegant Ferragamo shoes. Her hair was styled in a classic Hollywood style, adding timeless appeal to her look.
Cannes 2015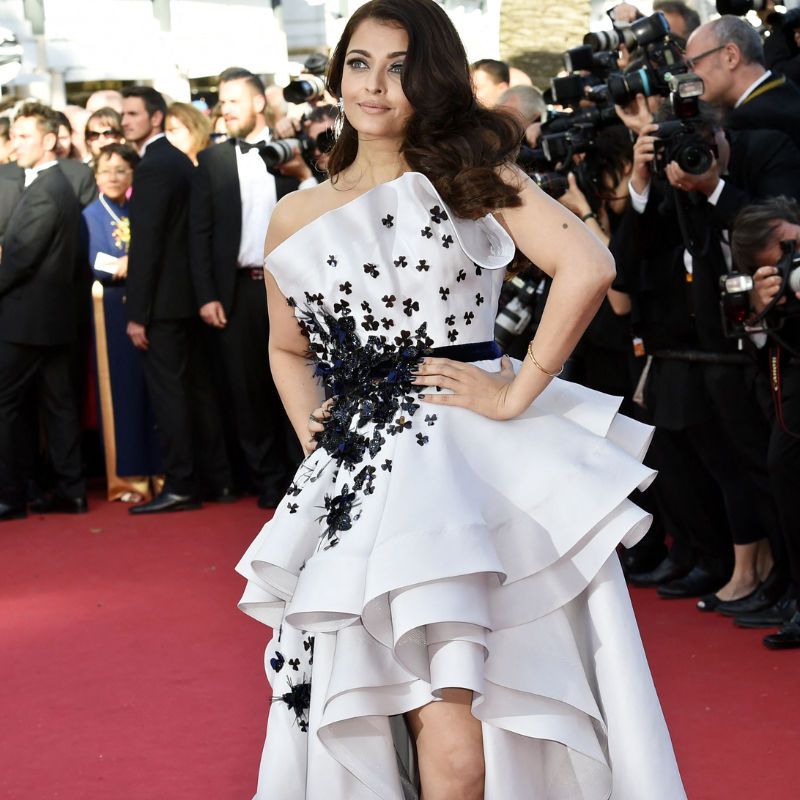 Aishwarya Rai Bachchan once again took the red carpet in Cannes by storm, leaving everyone spellbound by her presence. She gracefully showed up in a Ralph & Russo gown for the Youth screening, effortlessly captivating hearts with her stunning looks.
The airy gown, showcasing a monochromatic palette, boasted graceful white ruffles and a beautifully embellished black bodice. Rai oozed pure charm in this exquisite ensemble, cementing it as one of her most remarkable fashion decisions during her remarkable 14-year journey at Cannes.
Cannes 2014
Aishwarya Rai Bachchan looked absolutely perfect as she walked the red carpet at the Two Days One Night premiere in a stunning gold Roberto Cavalli gown. Exuding glamor and elegance, she was truly breathtaking in a strapless gown that showcased a mesmerizing mermaid silhouette. The glittering set featured a captivating crisscross pattern, accentuated by a waist-enhancing bodice and gracefully trailing train. Complementing her look with cascading curls and a bold red lip color, Aishwarya achieved perfection from head to toe.
Featured image: courtesy of gauravguptaofficial/Instagram
Frequently Asked Questions (FAQ)
Question: Which Bollywood actress was a judge at the 2003 Cannes Film Festival?
Answer: The Bollywood actress who sat on the jury of the 2003 Cannes Film Festival was Aishwarya Rai Bachchan.