for an insight into Antonio Conte's mindset, the survival mode he adopted during that most traumatic season, look no further than when he was diagnosed with gallbladder surgery in late January.
The Tottenham manager was in excruciating pain and until he was told what was causing it, dark possibilities swirled in his mind. Conte, remember, recently lost three close friends – Gian Piero Ventrone and Sinisa Mihajlovic to leukemia; Gianluca Vialli for pancreatic cancer.
"Before there was a lot of sad news… [so] when they told me that I only had surgery because of this, I was happy," Conte said, bursting out laughing. "Because you never know when you're out of shape what's going to happen."
It could be worse. It was an emergency operation, but this particular one seems OK. "After my surgery, I found that many, many friends of mine had the same surgery," Conte said. "For me, the difference was that I had an urgent operation that wasn't programmed [planned]. Because of this, perhaps I needed more time to recover well.
Conte already knows that. But he didn't when, missing a win over Manchester City, dragged himself back into the dugout for Spurs' defeats to Leicester and Milan in the first leg of the Champions League round of 16. He is only now preparing for his second comeback in the second leg against the Italian champions on Wednesday – Spurs lose 1-0 – after wins against West Ham and Chelsea and defeats to Sheffield United in the FA Cup and Wolves.
Conte wanted to return against Wolves on Saturday only to have his doctor recommend a few more days at home in Turin. In other words, he was still too weak. Conte added that the medics – in Italy and Spurs – were "very worried about him" after the first match against Milan, and it was also striking that he still had to "gain the weight back". He also insisted that he felt good and had "lots of energy."
It could be worse. It could be worse. And the sentiment seems to resonate with something broader at Spurs. The team is fourth in the Premier League and has a good chance of reaching the quarter-finals of the Champions League, for which they would certainly sign at the start of the season. So why is the glass definitely half empty?
There are some obvious answers – the style of play wasn't great and the form was serially erratic. Then there's the Arsenal factor. Spurs overtook their neighbors at the end of last season, so how did they manage to advance so spectacularly?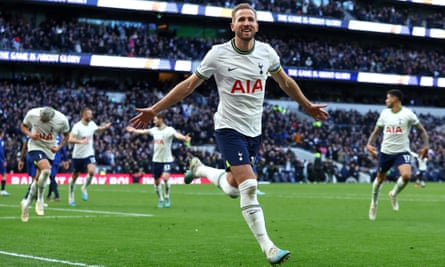 When Spurs fans look at Arsenal, they wonder why it's not them. Conte's team did quite well, but that doesn't change the fact that Arsenal are getting closer to the title. Nervousness prevails. The Spurs' victories were greeted with relief, while each defeat caused a glass to tip over and shrapnel shattered everywhere.
Then comes uncertainty over Conte, managing director Fabio Paratici and striker Harry Kane. Conte has refused to commit at the end of the season and his phrase "Then I'll let you know" does not inspire confidence or stability. Clearly, he's not desperate to stay and the fans aren't begging him to. It's easy to sense that the relationship is dying, Conte's impatience to fight for the biggest prizes clashes with the need to show it.
Paratici is banned from working in Italy after his former club Juventus were found guilty of fraudulent billing and the Italian Football Federation intends to ask FIFA to apply the 30-month sentence worldwide. Which, unless Paratici wins his appeal, will end his Spurs career. Juventus denied any wrongdoing. Spurs have said nothing – they have offered zero public support for Paratica – which raises a related question: does he have anything to say about Conte's potential successor?
The theme is silence. Fans believe management is not communicating with them, fueling the disconnect. There is also one between Conte and the academy. Meanwhile, Kane – whose contract expired in June 2024 – has not said anything about his intentions for next season. The drums started beating from Manchester United, and Gary Neville – camp Kane's favorite instrument – holds the drumsticks.
At the pre-match media conference in Milan, Son Heung-min was asked how good it felt to have Conte back. Amazingly good, was the answer. "I think this game if we turn it around… it could be a change of season and give us a little more confidence," said the striker.
Then it was Conte's turn, but he wasn't in the mood for big cheers, more for a series of measured reminders. He warned that Milan were the defending Serie A champions; "really good team", though one fifth in the table. Spurs played in the Europa Conference League last season, he added, virtually nothing. Conte has spoken of the need for his players to better cope with the pressure, develop – a common appeal – and learn from defeats such as the one against Sheffield United.
After three weeks of absence, the great man returns. The boom must come.