In Argentina, hyperinflation is driving cryptocurrency adoption, with local exchanges seeing a high flow of Bitcoin transactions. However, the government's response to the prevailing trends is to ban the adoption of cryptocurrencies. The central bank's decision on May 4 has wide-ranging consequences.
Argentina has a long history of economic instability and high inflation, experiencing episodes of hyperinflation. One of the reasons why hyperinflation could drive cryptocurrency adoption is because cryptocurrencies can offer people a way to protect their savings and wealth from devaluing their national currency. In the case of Argentina, the government has implemented various measures to control inflation. Such as currency control and price freezes.
However, these measures have often failed to stabilize the economy, leading many to seek alternative ways to store their wealth. However, the government is not smiling at innovation.
Cryptocurrency adoption in Argentina
Cryptocurrencies such as Bitcoin and Ethereum are becoming increasingly popular in Argentina as a way to protect your savings and investments from inflation. Unlike traditional fiat currencies, which can lose value quickly during hyperinflation, cryptocurrencies are designed to deflate, with a limited supply that governments or central banks cannot easily manipulate.
Last month, the price of Bitcoin hit an all-time high in Argentine peso (ARS), with the BTC exchange rate surpassing ARS 6.59 million, according to price aggregate data tracked by Google Finance. Statistics have increased by more than 100% since the beginning of the year.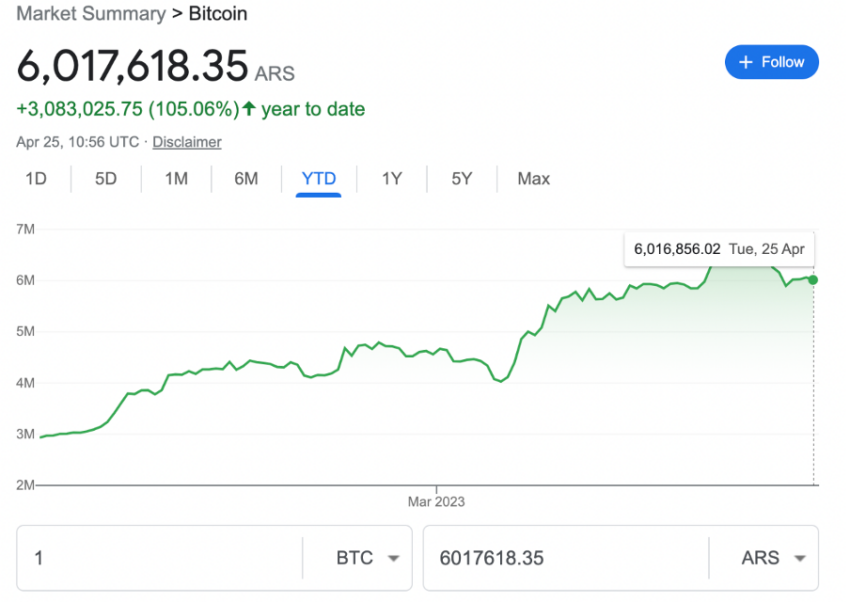 On the other hand, in March inflation in the country increased by 104.30% in annual terms, after an increase of 102.50% in the previous month. To make matters worse, Argentine central bank reserves have halved since 2019 to around $1.30 billion.
Such cases allowed the locals to reduce their dependence on the national currency. Instead, look for other decentralized safe havens like Bitcoin. This is evident in the data below, which shows the weekly volume of peer-to-peer bitcoin in Argentina.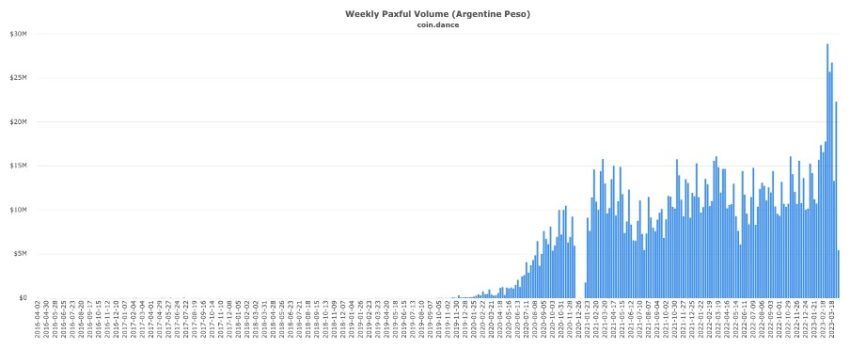 Here it hit a record high of almost $30 million in March on the Paxful exchange.
In search of a safe haven
There have been multiple reports of some cities in Argentina exploring the use of cryptocurrencies to address the economic challenges they face. For example, in 2021, the city's mayor Vicente Lopez announced plans to launch a local cryptocurrency to encourage local commerce and promote economic development.
The idea behind the initiative is to offer a local currency that can be used in the city to encourage residents to shop at local businesses instead of buying goods and services from outside. The city is reportedly working with a blockchain company to develop a cryptocurrency that is expected to launch later this year.
Other cities in Argentina, such as San Lorenzo and Bahia Blanca, have reportedly been exploring the use of cryptocurrencies to address economic challenges. Such as high inflation and lack of access to traditional banking. In some cases, local governments pay employees in cryptocurrencies as a way to provide an alternative means of payment subject to a different level of control and inflationary pressure than the national currency.
However, it is worth noting that the use of cryptocurrencies at the local level is still relatively new and untested. There are challenges and risks associated with these types of initiatives. For example, there may be legal and regulatory barriers to overcome, as well as concerns about the security and stability of digital money.
Government blocks cryptocurrencies despite struggles
Argentina's central bank issued a new resolution that effectively banned payment service providers from offering cryptocurrency-related services. The resolution, published on May 4, prohibits financial institutions and payment service providers from participating in or facilitating payments through cryptocurrencies.
"Payment service providers offering payment accounts […] may not carry out or facilitate operations with digital assets, including crypto assets, that are not regulated by the competent national authority and authorized by the Central Bank of the Argentine Republic," reads the resolution.
The move fueled widespread speculation and uncertainty on social media platforms. For example, Argentina's fintech chamber urged the government to reconsider its decision. Organization he stated"It restricts access to technology that offers many benefits and opportunities for our society."
Prominent leaders have also raised red flags on the global banking system. One of the leading names is Robert Kiyosaki. He encouraged the use of other mediums such as gold, silver and bitcoin.
Although many central banks have implemented monetary measures. Such as lowering interest rates and providing liquidity to banks to support economic activity and prevent a credit crunch. Governments have also introduced fiscal stimulus measures, such as financial support for businesses and households, to help cushion the economic impact of the pandemic.
But will it work to offset Argentina's brewing crisis?
Reservation
In line with Trust Project guidelines, this article contains the views and perspectives of industry experts or individuals. BeInCrypto is dedicated to transparent reporting, but the views expressed in this article do not necessarily reflect those of BeInCrypto or its employees. Readers should self-verify the information and consult a professional before making a decision based on this content.