BNB chain LaunchZone's decentralized protocol loses $700,000 as attackers siphon liquidity from the protocol with Swapping pancakesPancakeSwap, the most used decentralized application on the BSC network, is famous for running tokens, as well as many different features. DEX makes trading extremely accessible, even for those who are new to the DeFi scene. Here it is…Know more decentralized exchange around 7:32 UTC on February 27, 2023.
LaunchZone team later suspended trading in its native token, LZ, which has since fallen 83% to around $0.000086.
BNB Chain DEX PancakeSwap shows an increase in LZ/BUSD trading volume
Following the announcement, Biswap, a decentralized exchange on the BNB chain, said it would remove the token from the exchange within five hours.
LZ is a management and utility token for the LaunchZone ecosystem that is compatible with BEP-20Despite coming from cryptocurrency-hostile China, Binance has managed to become the world's largest cryptocurrency exchange, serving over 13.5 million active users. Currently headquartered in the Cayman Islands, Binance's mission is to offer a full suite of cryptocurrency trading services….Know more token standard. The token has a total supply of 50,000,000. According to Coingecko, it is mainly traded on PancakeSwap, another BNB DEX.
Currently, the LZ/BUSD trading pair on PancakeSwap DEX has the highest liquidity. The transaction volume has increased by more than 7,000% in the last 24 hours to over $700,000, suggesting that it may have been used in an exploit.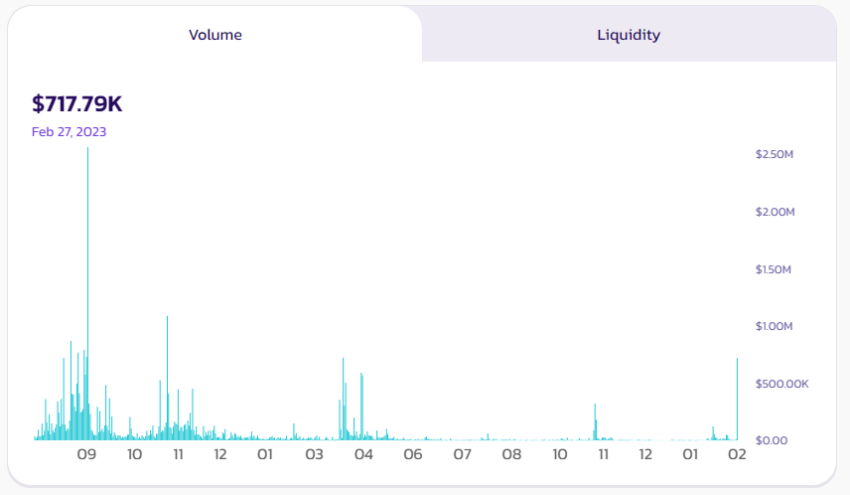 This was recently reported by the analytical company Chainalysis DeFiDecentralized finance (DeFi) is a financial service built on blockchain technology. It aims to empower the population by creating an open, efficient and comprehensive financial system. Using smart contracts, DeFi platforms provide unlicensed financing, thus enabling financial inclusion for all. DeFi…Know more exploiters stole over $3 billion in 2022, accounting for 82% of all crypto attacks. It uses targeted smart contracts that users used to transfer cryptocurrencies from one blockchain to another, called bridges.
Halborn's chief operating officer, a DeFiWhat makes the Ethereum network such a popular choice for decentralized finance (DeFi)? Decentralized finance (DeFi) is a term used to describe the world of financial services that are increasingly being offered through decentralized…Know more a smart contract auditor, said many DeFi protocols are under attack because they are not investing enough securityBitcoin has many advantages, one of the many being the unprecedented freedom it provides from banks thanks to its technology. This is a revolutionary idea, no more banks are needed. Here you will find all the basic cryptocurrency security tips that…Know more staff.
"A large protocol should have 10 to 15 people on the team. "The DeFi community generally doesn't want better security — it wants to move to high-performance protocols. But these incentives lead to trouble down the road.
Earlier this month, quantitative trading company Jump Crypto discovered a security flaw in the Binance BNB chain that would allow unlimited BNB tokens to be minted on the exchange. The BNB Chain team reportedly resolved the issue within 24 hours.
Texas regulators block Binance.US takeover of Voyager assets
In others BinanceThere are many cryptocurrency exchanges and wallets that provide great features for trading and investing, but one of the main platforms is Binance. Founded by Changpeng Zhao, a developer who has created many different investment tools, the platform has…Know more Texas regulators filed court documents last week to block Binance.US from taking over the assets of bankrupt cryptocurrency broker Voyager Digital.
In a joint filing with the New Jersey Bureau of Securities on Feb. 24, 2023, Texas regulators stated that despite significant support for the Binance deal from Voyager's unsecured creditors, creditors were not informed of Alameda's $446 million return claim, which may reduce the claims of other creditors from 51% to 25%.
The U.S. Securities and Exchange Commission recently filed court documents alleging that Binance.US may be exposed to business risks from regulatory action, making it untenable to transfer customer assets from Voyager to Binance.US. maintenance.
A U.S. bankruptcy court judge in the Southern District of New York approved Binance.US' acquisition of Voyager's assets for $1.02 billion in January 2023.
Voyager Digital filed for bankruptcy in July 2022 after failed hedge fund Three Arrows Capital defaulted on a $654 million loan.
For Be(In)Crypto's latest Bitcoin (BTC) analysis, click here.
Sponsored
Sponsored
Reservation
BeInCrypto has contacted the company or person involved in the story for an official statement on recent developments, but has yet to receive a response.