Tthe lights go out and everyone is out, even the costume man whose job it is to pack and close. All right, almost all. Borja Iglesias is still at Benito Villamarín, with ice on his knee and a bandage on his wrist, in his training kit. A teammate who was waiting for dinner has left – sorry Andrés – and the entrance is locked, but he's inside talking about, well, everything. The goal that brought Real Betis their first trophy in 17 years and how good it is to be kicked, put pressure, be called Panda and also paint your nails and why more footballers should talk.
There's a lot to say. Fond of his Leica and rolls of 35mm film, when Iglesias finally makes his way to an empty, quiet dressing room with only his belongings left, he stops to ask the photographer if they can go and take pictures together. "Just not this week; this week is busy," she says. "I'm going to Old Trafford." And with that it breaks down again.
Iglesias looks like a child, with a twinkle in his eye as if he still can't believe he's here, let alone Over there. "When the draw was made, some of my teammates were like, 'Ah no, [Manchester] United. It's going to be hard," he says.
"And I thought, 'Yeah, sure, it's tough, but he's playing at Old Trafford? How cool is that?!'" Pretty cool, that's what most people think of him. When asked to summarize, one of the players sends a voice memo: "Borja Iglesias?" it speaks. "An outstanding footballer. The best man. And this is the opponent. Borja fucking loves soccer and soccer fucking loves Borja.
Of course they do at Betis, where he scored in the final of the Copa del Rey, the fourth trophy in their history. But everyone seems to have a soft spot for the big, bearded Spanish international. Feel the enthusiasm, warmth and fun, and it's easy to see why. Talk to him for a while – better yet, talk to him for a while – and it will be even easier. Nicknamed The Panda after a song by American rapper Desiigner whose youth team Celta created their anthem, the black and white teddy bear tattooed on his ankle is a man who, instead of complaining about his recent bruises from a centre-back, walked away and immediately declared how much fun he had with the "noble" Éder Militão from Real Madrid.
When he was a child, Iglesias was waiting at the airport in Santiago de Compostela, Galicia, with an autograph book in his hand. In his parents' house there is a box full of stickers, captions and snaps, a portrait of his passion. He recalls not daring to say a word to Ronaldo Nazário, countless photos with Fernando Torres and how he admired Didier Drogba and Ruud van Nistelrooy.
"When we played at PSV, I asked Ruud for a photo. I was very excited and my dad was a big fan. I am talking with [Betis's coach, Manuel] Pellegrini about him. And Manchester United represents my first memory of English football. [David] Beckham, [Eric] canton. They had a huge influence growing up. Going there is a gift."
Although Iglesias has never been to Old Trafford, he has seen United live. In May 2017, he was in Balaídos, a player for Celta's B team, when the first team faced United in the Europa League. That night Marcus Rashford scored for United in a 1-0 win; six years later, Rashford is the only starter still at the club. He is also the man Iglesias describes as a "role model", someone whose T-shirt he would like to add to the collection, which is the perfect complement to that box he built as a boy.
Iglesias has the shirts of the biggest clubs: Madrid, Barcelona, ​​​​Oviedo. He mentions some names, recalls how Torres kept one for him even though they never met, and talks about "tactics" too. In New York there is David Villa, Lionel Messi, Luka Modric, Karim Benzema. Joaquín when they were opponents. – I asked against Inter [Edin] Free-kick Dko," he says with a smile. "Sometimes they do it first, which is nice. Some great player you admire and He he asks You. So it was with Diego Costa. His friend was a fan. He says, "I must have your shirt." I thought, "I'll take yours, won't I?"
Iglesias laughs. "Of course I want Rashford on Thursday. But I suppose it will be one of the most sought after. The expert is Alex Moreno; he is so fast. You walk up to the player and he says, "Alex already asked in the warm-up."
"Rashford was young when I saw him against Celta at the time, but he already had the ability to make a difference and now he's even better: big but skillful, he can outrun you, he can score goals, he can create, he can play in different ways. Of course I admire him for what he is as a player, but also for who he is Who is: Off the pitch, he leads by example, he engages in social causes, he brings visibility, he is not afraid to express himself. It's not outside and people can see it.
"He showed the power that players can have, the responsibility to say, 'Look, things are like this, but we have a chance to leave things better.' It's important to be aware of this. Sometimes it can be a headache, people don't like that. But any problems it causes are minor compared to the positive impact. Others work, but quieter, although this loses visibility.
"Rashford does it in a very natural, organic way. And that's how I think about those things too." Iglesias is open about mental health, the support he sometimes had to seek, and speaks out against racism and homophobia.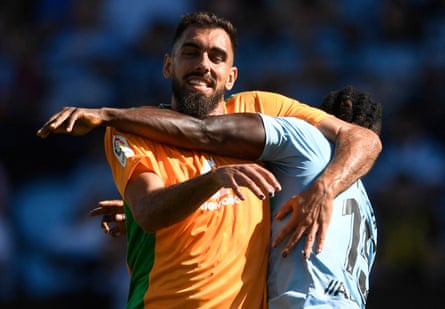 He talks about football's responsibility to "create a safe space", expresses hope that new generations will bring "a more open mentality" and praises Jakub Jankto's decision to come out as gay, which is a step towards full normalization. "It's completely normal in women's football," says Iglesias. "In that sense, they are an example to us." There is a break. "And many others," he adds. When he speaks, multicolored nails move, a message of integration and a reminder to himself.
"I first did it when the Black Lives Matter protests started," he says. "I painted them black to be aware. We normalized some comments that shouldn't be normal; it was a way of making it present so that if I said something, I would think, it would work, "No, we have to fix this." Later I changed the colors; the message also addressed homophobia. And now I like it.
When the nails were first spotted, there was criticism on social media, but Iglesias dealt with it clearly and calmly, explaining why it matters. Using these platforms, opening up and talking may have exposed him, but it brought sympathy – "maybe they don't feel the nervousness to come and talk to you" – and brought him closer to people. Just like the goals followed by the Spanish national team.
So much for stick to football. "The more I find things to do outside of football, the better I feel on the pitch. And it doesn't necessarily mean paying attention to social issues; it can be finding creative activities, other interests. It's as if one favors the other. When I limit myself to football, I feel worse: as if focusing solely on football creates a pressure, a feeling of being overwhelmed. Getting out of it helps.
"It's normal that some people don't go beyond football because we can feel vulnerable, dizzy. But we need not be afraid: we are not born with every lesson. If you like something, go find out about it. Listen to people who know because one of the luxuries of football is being able to meet so many people.
"Our profession is our passion, the world we live in, and often the footballer's life closes in on itself. Sometimes you also have to look further to realize, "Fuck, how lucky are we?" For example, I feel a lot of love.
"I made my debut at the age of 20 but didn't play again pad up to 25 and I think that makes me appreciate it more. During my third year with Celta B in Segunda B, I thought, "Maybe that's what football has for me." Just enjoy it, don't think too much. But then my last year was amazing, changes everything. I'm getting in pad and think: wow. Not getting there so quickly helps. Not long ago I was playing ankle deep in mud. Everything from there is a luxury."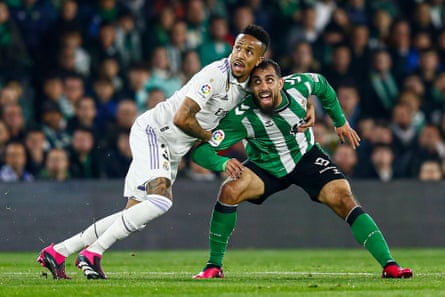 Even digging. "I like the battle," laughs Iglesias. "I need to feel this contact, experience this duel. Until I was 15 or 16, I was more afraid, but I grew up. I like them lying on me, bumping into me, beating me. I like to feel: here it is". He says he does not like the defenders left him alone, which led to discussions about the importance of benchmarks on the pitch, the type of player he is – one who could play for England – and how he evolved to please everyone. The analysis continues with him praising Casemiro's underrated ability to "touch the ball and throw the team every time he robs the ball." He thinks it is for sure.
"Well, I try," he laughs.
But sometimes it's better not to. "You know, from time to time I thought, 'I wish I didn't care,'" he admits, and he's not alone: ​​the other day a teammate was reading on the bus The Art of Not Fucking. "Since I was a child, I've repeated things that have caused me problems: nausea or anxiety. Sometimes I just want to say: forget about it. And sometimes I say to myself: just go and do something else, just for fun. Let go."
On the pitch too. "I had two very similar examples this year: a typical mid-mile run. One, I won; second, I almost tripped over the ball. And the difference was just that: thinking. The first, against Girona, was about execution. In the second, against Atlético, I run all alone [Jan] Oblak, thinking "What shall I do?" And there is a moment when I actually leave the ball behind as if I had forgotten about it. I'm at my best when things flow.
"I usually take a moment before warming up when I meditate – as much as you can, because you are in a busy dressing room with music on and everyone is engrossed in their own ritual. I give myself a few minutes to breathe and think. "Hell, I'm going to get a chance to play another game." It helps because go back five years and I'd be desperate to be here.
Alone at Benito Villamarín, but I'm going to Old Trafford soon. And that, Panda says, is pretty cool.