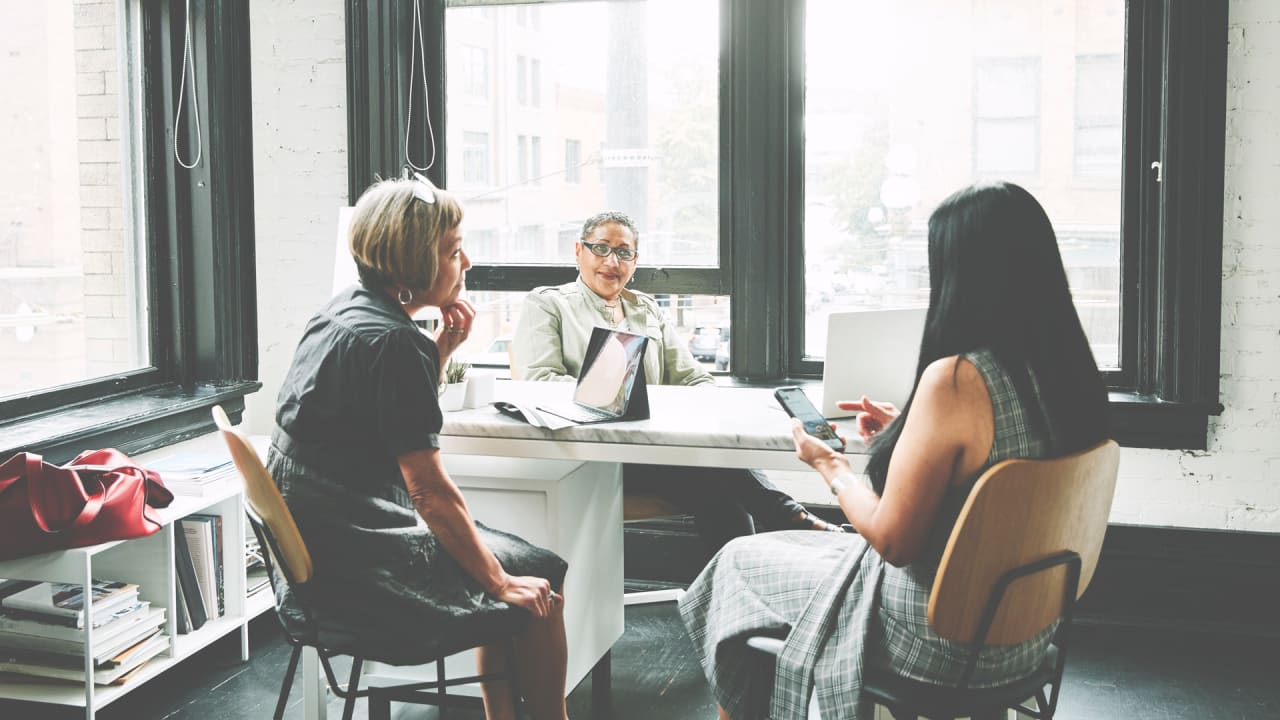 New technology, economic uncertainty, and a desire for greater flexibility are pushing more Americans into self-employment, especially those who have historically faced greater barriers to starting a business.
According to a recent study by the software company Gusto, 5 million new companies were created in the United States in 2022 – 42% more than before the pandemic. Moreover, while 71% of new businesses were started by men in 2019, there was an almost equal gender split in both 2022 and 2023. The share of black entrepreneurs also tripled from 3% in 2019 to 9% in 2022 before falling slightly to 5% earlier this year.
"There has been a trend where people who were previously excluded from owning new businesses are fueling the kind of entrepreneurial growth we're seeing today," says Luke Pardue, an economist at Gusto who authored the study. "Everyone approaches entrepreneurship with their own perspective, their own idea of ​​the problems to solve, and as we expand the network of types of people who become entrepreneurs, the problems they identify and solve through entrepreneurship also expand."
A solution for those most affected by economic uncertainty
Not only has there been a change in who starts a business, there has also been a change Why. According to the survey, inflation and economic uncertainty were the main drivers of new business creation, with 41% citing financial stability or additional income as their main motivation – up from 24% last year. This number also rises to 56% among "side hustlers" or those who run a business venture alongside their traditional employment.
Changing lifestyle priorities and burnout are also becoming key drivers of new business creation. The Gusto survey found that half of entrepreneurs left their full-time job to start a business – up from 36% in 2021. In addition, 63% of newly self-employed respondents made a change in the pursuit of greater flexibility, while nearly half of entrepreneurs in aged 35 to 54 started a business due to professional burnout.
"Layoffs, school disruptions, rising cost of living as inflation entered the conversation; the groups that drive entrepreneurship have been hit hardest by this disruption," Pardue explains. "In 2020, black and Hispanic workers and women were being laid off at the highest wages, and they turned that obstacle into an opportunity by starting their own businesses."
While entrepreneurship has become more accessible to a more diverse segment of the population, funding opportunities have not. According to a study by Gusto, 14% of new companies founded by men received capital investment, compared to only 6% of companies founded by women. Moreover, 10% of white business owners received outside investment, compared to 4% of black and Hispanic entrepreneurs.
"Many of the funding gaps that are critical to growing and sustaining a business are still not available to many of the groups that are driving this entrepreneurial growth," says Pardue. "If we are to achieve equitable growth, we will need to reduce these gaps."
Entrepreneurs are fine
Research suggests that most self-employed Americans are optimistic about their company's short-term prospects, despite widespread concerns about the state of the economy among the general public.
According to Gusto's survey, 8 out of 10 entrepreneurs say their business performed better than expected, and these results were reflected in a survey of sole traders (or those who own a company without employees) conducted by Collective, a platform designed to serve this segment business owners. According to the Collective survey, 81% of them say they have performed better than expected in the last six months, and 83% are confident that the next six will be the same or better. By comparison, a recent Pew Research poll found that 75% of Americans worry about the economy.
Hooman Radfar, Collective's CEO, speculates that the discrepancy in economic outlook between the self-employed and the rest of the population is linked, as the slowdown in traditional employment often leads to more opportunities for entrepreneurs, especially freelancers.
"Companies still need help, they just can't take the risk of hiring a full-time person right now because they have an uncertain outlook," he says. "Instead of hiring a full-time employee, they're basically using contract work to work project after project as they come up with it."
This theory is supported by the types of companies that saw the most revenue growth, adds Radfar. According to the study, freelancers offering sales and marketing services recorded a revenue increase of 9.5% in the second half of 2022. In addition, Collective is seeing a significant increase in the number of consultants and trainers joining the platform.
"Whether it's an agency or an individual consultant, the demand for it is growing," says Radfar. "The areas where you see the biggest change right now are where big companies are shifting their spending."
Why the lower barrier to entry can be a double-edged sword
Entrepreneurial rates tend to rise during periods of economic uncertainty, but the rate of new business creation has been rising more consistently and aggressively than during previous periods of instability, which many attribute to the lower barrier to entry.
In the past, taking your first steps towards entrepreneurship required significant time and capital, but innovations ranging from accounting software to online marketplaces have made it possible to start a business in minutes with little or no cost.
The rapid growth of entrepreneurship, the increasing diversity of the self-employed population and the economic optimism they report are encouraging indicators, but less important than their ability to thrive in the long term, according to Mahdi Majbouri, an economics professor at Babson College.
"Barriers to entry have fallen for many companies, but competition is also becoming more intense," he says. "The entry rate is high; the exit rate may also be high.
Majbouri, who co-authored a report published by the Global Entrepreneurship Monitor – a global consortium of economists and entrepreneurship researchers – says entrepreneurship rates fluctuate from year to year, but have shown an upward trend over the last decade, especially among women and non- white business owners. At the same time, it warns that the share of entrepreneurs in a given population is not in itself a strong indicator of economic opportunity.
"I worry if someone has a good idea, will they be able to start a business around it?" He says. "The US is actually doing really well in this area; if someone has a new idea that is good, they can implement it relatively easily."
Majbouri adds that entrepreneurship rates are very high in emerging economies, but often because of a lack of more traditional job opportunities. He adds that in some jurisdictions, entrepreneurs also cannot reach their full potential because their businesses are only able to grow up to a certain point before the government intervenes and takes control.
He adds that an environment where people – and especially those who have faced barriers in the past – feel they have a chance to build a successful business is critical to a country's long-term prospects. Despite funding gaps and other lingering challenges, he says the growing diversity of America's entrepreneurial population is encouraging.
"The most important thing is that people feel they have the same opportunities as everyone else. . . that their success rate does not depend on which group they belong to," he says. "It would be a positive cycle if more opportunities for any group materialized as it encourages more people to turn their ideas into businesses, especially among groups that are underrepresented."