The producer, who until recently was at the center of the BBC's political coverage, criticized chief executive Tim Davie for not having a "true understanding of journalism" and lamented new threats to the broadcaster's standard of current affairs analysis.
Rob Burley says an element of the BBC's main goal of interrogating politicians and scrutinizing politics is now "almost dismissed".
speaking to Observer this weekend Burley, who previously produced live BBC political programmes, incl The Andrew Marr Program, attacked the corporation for the loss of many seasoned heavyweight interviewers and for the recent "arrogance" shown in a public feud with football presenter Gary Lineker.
"Clearly things have been handled very badly," Burley said. "They have lost a lot of good political presenters. I don't know if there's a lot of BBC expertise left in the building. Funding cuts are real and there are tough decisions to be made, but I don't think Tim Davie really understands journalism, so he's given up on a lot of those cuts.
"At the same time, many of the politicians who are crying over the loss of local radio journalists are the same people who pushed for the original BBC funding cuts in Parliament."
Burley's candid new book Why is this lying bastard lying to me? revealed last week that BBC board member Robbie Gibb had told him to walk away from investigating Brexit promises to the electorate.
Burley now feared, he said, that the BBC's clash with Lineker in March over a tweet attacking the government's immigration policy was a damaging repetition of mistakes made in dealings with veteran political broadcaster Andrew Neil.
"The attitude of BBC management and Tim Davie reminded me of what happened to Andrew. He set up his new BBC Wednesday night political show – Long Interview – which they then scrapped and offered him some sort of transient, occasional automaton instead.
"Whether you liked Neil or not, he was of particular value to the BBC because he's not the kind of person that a corporation mostly consists of. He comes from a business background and does not share the same liberal sympathies. There were, of course, many other reasons why he was valuable, but this one was special to him. And, of course, then he left for GB News and is now with Channel 4.
"So I feel there was a certain arrogance that I saw towards Lineker, who seems like Davie thought he was just going to fit in line. He didn't realize the level of support Lineker would receive from all the other sports presenters."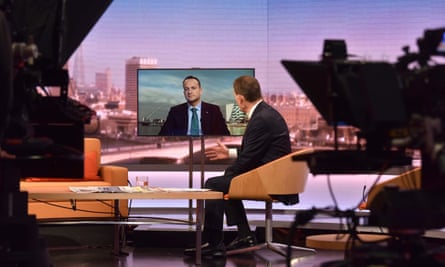 Burley, who is now a producer at Sky News and hosts interview programs hosted by political editor Beth Rigby, said his book was intended to entertain while also "arguing about the value of longer interviews".
"It's a crucial part of democracy and the BBC almost threw it away," he said. "They seem to have lost a lot of those people as well as faith in the idea. They don't believe that viewers want it."
On the claim, detailed in his book, that Gibb, Theresa May's No 10 adviser, was trying to divert him from investigating the government's claims about the financial benefits of Brexit, Burley added: "I was quite honest in the book. , and I don't believe Robbie contradicted my story. In fact, he reiterated his line that it was important to "move on" and not just question Brexit again." At the time of the referendum, Gibb was the editor of live political programs on the BBC.
"I remember bursting into his office after the Brexit vote saying, 'Now we need to look at all the claims of the Brexit campaign,' recalled Burley. "And it seemed quite reasonable to investigate things, including of course the £350m claim on the bus. So I was quite surprised by what Gibb told me.
"I mean I've understood that the veracity of the actual claim is quite complicated to unravel as the source of funding for the NHS is hard to define, but that's not the point."
Gibb has since substantiated his view that Brexit promises were a dead issue. "The £350m wasn't a lie at all. It's just a campaign. No one ever says, 'What about Labor saying you have 24 hours to save the NHS?' – but when it comes to Boris Johnson, yes. So I just don't have a truck with it," he said.
Gibb's views were in fact ignored, Burley admits, and the BBC investigated the request to leave the battle bus. "In general, I don't believe the BBC has a big problem with bias: although there is always a potential 'incumbent bias' in favor of the government that you need to guard against. Any politician in power has quite a bit of influence in allowing access and setting the agenda."
Burley agrees viewers' confidence has been eroded by the recent investigation which led to the departure of BBC chairman Richard Sharp, a Conservative Party donor linked to arranging Johnson's loan, especially when combined with Gibb's place on the board and Davie's historic involvement in local Party politics Conservative. However, he said he sees it as a perception problem rather than a real threat.
"I don't believe Robbie Gibb is going to try to influence everything and I was surprised by this one example, so I covered it in the book," he said.