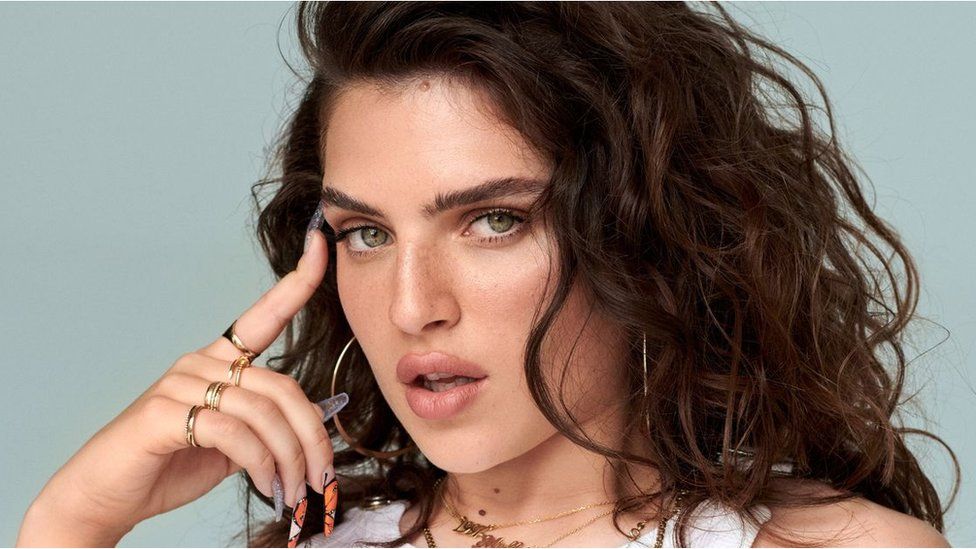 So Mae Muller has been officially announced as the British entrant in the Eurovision Song Contest 2023.
The 25-year-old is heading to Liverpool in May to perform I Wrote A Song – a silly but catchy revenge song written about her ex-boyfriend and heavily teased on her social media channels.
Muller is hot on the heels of Sam Ryder, who finished second in Turin last year, giving Britain its best result in more than two decades.
Like him, he has been in the music industry for some time, releasing his debut single Close in 2018; and scored a minor hit in 2021 with Better Days.
Hailed as the "queen of sass" and "pop sensation", she has already been nominated for an MTV award and has worked with the likes of Little Mix and Marshmello.
Here's everything you need to know about the Eurovision 2023 candidates.
He has middle child syndrome
Holly Mae Muller was born in 1997 in Kentish Town, North London; and says she was a typical attention-grabbing middle child.
"Since I was two, I've been seeking attention," she recently told the Private Parts podcast. "Every Christmas or something family I would say, 'I want to put on a show! Sit down everyone, I want to sing for you!
"It sounds so silly, but I just loved music and felt like I loved it more than anyone else."
Her parents separated when she was six, but Mae stayed in London with her costume designer mum while she attended school in Tufnell, where she taught the younger children creative writing.
Her aunt is a music video director, and Muller spent her afternoons as a runner for artists like Labrinth, for whom she once made tea in a Styrofoam cup.
"It was my claim to fame for a long time," she told Golden Plectrum.
She has never confirmed her aunt's identity – but it appears to be Sophie Muller, the acclaimed director of films such as No Doubt's 'Don't Speak', Bjork's 'Venus As A Boy' and Beyoncé's 'Deja Vu'.
Sophie also directed a video for Grace Kelly played by Mika, which brings us to this…
Her first role was in the movie Miki
When she was nine years old, Muller starred in the music video for Mika's breakthrough single, dancing in a lime green ball gown and synchronizing Grace Kelly's dialogue from The Country Girl.
"I actually got it based on how [messed] Apparently I had teeth," she said in a recent episode of Never Mind The Buzzcocks.
"I think they've seen all the auditions, and he said, 'She's got really intense teeth. That's good, we like it."
Gwen Stefani got her into music
The first album she became obsessed with was Gwen Stefani's Love Angel Music Baby, a hyperactive pop classic that combined pop, hip-hop and a retrospectively dubious obsession with Japanese Harajuku culture.
"I wouldn't say she influenced my music and songwriting, but after discovering Gwen, I knew I wanted to do what she did," Muller told Wonderland magazine in 2018.
Other early influences include Florence + The Machine ("I was listening to it through headphones and crying about some 12-year-old boy I was angry at") and Lily Allen's debut album, Alright Still.
"We listened to it on vacation," he recalls.
"We rode these beautiful mountains and Lily Allen said the ugliest things. I was still in elementary school so I didn't really know what it meant, but I knew I was obsessed with it."
She wrote her first song because the Wi-Fi failed
Despite her aspirations, Muller didn't write her first song until she was 19 – and even then she was forced to write it.
The singer was traveling by train from her father's home in Cornwall back to London when the Wi-Fi stopped working and started writing a song about her boyfriend to stave off boredom.
"I opened Notes [on my phone] and started singing melodies and whatever came to my mind," she told The Line Of Best Fit. "I just said how I felt and tried to turn it into a song and it worked."
Back home, she asked a friend to help her record the song on his laptop and uploaded the track – now called Closer – to the internet.
"I gave him a bottle of wine for it because I had no money."
The song is still on her Soundcloud.
"From there it just snowballed," she told Glamor magazine. "I started taking sessions and just making more and more music and working on honing my writing skills."
These early songs landed her a manager and a publishing deal, and in 2018 she signed with Capitol Records.
Better Days was her breakthrough hit
A collaboration with Swedish producers Neiked, Better Days blew up in September 2021, giving Muller her first taste of chart success.
An upbeat, upbeat piece of dance pop, it's an obvious festival buster, but Muller was initially reluctant to record it.
"I used to be very stubborn about recording songs that I didn't write myself because I always did," she told Women In Pop.
"But I listened to it and I just fell in love with it. A great song is a great song and Neiked said, 'Put your gravy on it,' so I did it and it just felt good."
She was right to trust her instincts – the song sold over a million copies and went platinum in the United States.
Her song for Eurovision is a diss
"Never cheat a songwriter" is a good axiom worth living by.
Muller has made a career of shaming her irresponsible ex-boyfriends with songs like So Annoying, Jenny and HFB – which tell the (true) story of how she discovered her partner was bullying her and dumped him on his 18th birthday, reminding him every year about your mistakes."
Her Eurovision entry – I Wrote A Song – continues the tradition.
"I was really annoyed with this guy. I wanted to do something crazy, maybe burn down his house, I don't know," she explained on TikTok.
"But instead I took the main road and wrote a song. And that's called height, ladies and gentlemen."
A cheerful club hit with flecks of Spanish guitar, the song tells the story almost word for word.
I was going to curse you / Outside your house for all to see
I wanted to destroy your Benz / Tell all your friends how cruel you were to me
Instead, I wrote a song / About how you hurt me
I could cry at home / And spend the night alone
Technically though, the title should be "I co-wrote the song."
Muller had a little help in the studio from hitmakers Karen Poole (Kylie Minogue, Zara Larsson, Becky Hill) and Lewis Thompson (Joel Corry, Little Mix Raye).
He can "cut" live
Prior to Sam Ryder, one of the biggest failures of British Eurovision teams was their complete inexperience in performing (a) live vocals, (b) in front of a camera, (c) in front of a global television audience, or (d) in front of anyone at all.
But Muller paid her dues and earned her stripes, and overall proved pretty decent at keeping up on live TV.
On tour, she supported Liam Payne and Little Mix; sung with Aitch at the Live Lounge; and played a sold-out homecoming show at the Kentish Town Forum last year.
And here she performs for millions on The Voice US, looking perfectly at home in front of megastars like Ariana Grande and John Legend.
I'm keeping my fingers crossed for Liverpool.
Harry Styles helps her get ready for the show
Most musicians have a pre-performance ritual that helps them get into the zone. The Foo Fighters drink shots and listen to Michael Jackson, Rihanna leads her team in a battle cry, Beyoncé gets an extensive massage.
Mae's requests are a bit simpler.
"I need a cup of tea," she told CBBC earlier this year. "I recently got a Harry Styles mug and now I need to have it in my Harry Styles mug.
Her love for Styles runs deep. "When I was 13, I went to see One Direction on X Factor and I grew up with it," she told Capital Radio last year.
But that obsession almost got her in trouble last year – after she released the cover of Styles' "As It Was" and used a Harry Styles mug as artwork.
"I didn't realize that the most famous man in the world couldn't just be released without their permission," she admitted.
"[I] had to remove it to avoid a lawsuit."
Despite her name, she is not the heir to the German yogurt fortune
But she dressed up as a giant Muller Corner yogurt for the 2019 Halloween show.
Bonus fact: Mae also has a Teacake Tunnock tattoo on her forearm.
After Eurovision – film career?
Midway through last year, Muller landed her first film role in the brutal action thriller Gassed Up.
Directed by Bafta-nominated documentary filmmaker George Amponsah, it tells the story of 20-year-old Ash (Stephen Odubola) who becomes embroiled in a spate of moped crimes while trying to raise money to send his mother to rehab.
Muller released a video of the set last July, saying the shoot was "the most fun, exciting, terrifying and amazing experience" of her life.
But music will remain her main focus, with her debut album scheduled for later this year – and her goals are the charts.
"I never wanted to be a cool underground artist," she told Billboard magazine. "I want to be a pop star; i want to travel around the world; I want to be on the charts. I've never avoided it."