James Anderson and Jack Leach scored three goals each as England dominated the second Test against New Zealand decisively.
England resumed day two with a score of 315-3 at Wellington's Basin Reserve and lost early on to Harry Brook for 186, but Joe Root's Test 14 score of 150-plus helped them move on before declaring 435-8 late in the morning session .
Anderson then made an early invasion with goals from both Devon Conway and Kane Williamson to leave the Black Caps at 12-2 at lunchtime and took another in the afternoon along with three for Jack Leach as the hosts dropped to 96-6 at tea .
Stuart Broad then sprang into action after tea, just caught and thrown to knock Michael Bracewell off, with New Zealand seven down and still 297 runs behind England's first innings, with the continuation potentially close as the rain again brought an early end to the fun of the day .
Story of the day
All eyes were on whether England striker Brook would be able to go on and make his first double century in any form of cricket, but he was only able to add two to his overnight total before being caught and thrown by Matt Henry in the third part of the day.
After a quick 27-of-28-ball episode from Ben Stokes, only for the captain to mistime the shot and was caught by substitute defender Scott Kuggeleijn midway as he attempted another Neil Wagner offensive shot, and was soon joined back in the pavilion by Ben Foakes.
The goalkeeper only lasted five balls before being sent off under strange circumstances, without disturbing the goal scorer, slipping and being surprised by the ever-watchful Tom Blundell after Michael Bracewell's bowling.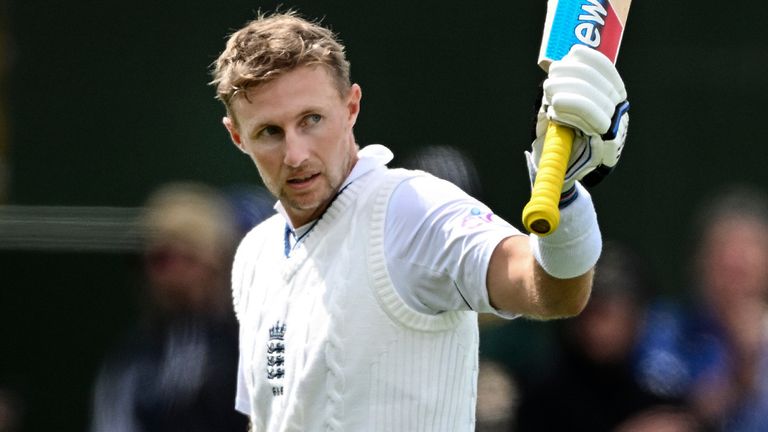 Off-spinner Bracewell then trapped Stuart Broad lbw at 14 just before New Zealand's new ball was made available and Henry secured a fourth wicket as Ollie Robinson (18) hit him straight to Black Caps captain Tim Southee after being dropped by Blundell the previous ball .
Root, however, was commanding on the other hand, even knocking out a ruler hit a few times and eventually finished on 153 without going out. His 10th four innings took the right-hander to this score and immediately earned Stokes a declaration.
Anderson, who returned to the top of the ICC bowling rankings after his performance in the first test, hit twice before the lunch break.
Stokes' clever review after Conway initially refused to open showed that the right-hander had the slightest advantage to Foakes, leaving him to go get the duck, then Williamson (four) moved the seam to the keeper as well.
New Zealand vs England – summary of the second day
England 435-8d with 87.1 stopovers: Brook (186 of 176 balls), Root (153 not of 224); Henry (4-100).
New Zealand 138-7 from 42 stops: Latham (35 of 76 balls), Nicholls (30 of 38); Anderson (3-37), Leah (3-45).
Leach sets the Black Caps in motion
The combination of Anderson and Foakes also did for Will Young in the second second after the restart, seeing him go off in two, but Henry Nicholls, who joined the opener Tom Latham in the corner, led New Zealand to rebuild their innings.
However, it was spinner Leach who made the breakthrough in Game 21 as Latham was credited by TV referee Aleem Dar for lightly touching his glove with the ball popping up to Root as he attempted to reverse the sweep, leading to him falling on the 35th.
There could be no question of sacking Nicholls for 30 four overs later, however, as he too tried to turn the England left-back away and was caught off-kilter by close fielder Ollie Pope.
Then Pope was on hand for a second good catch on the final pre-tea ball as Daryl Mitchell (13) went forward to defend one of Leach and instead shoved him straight into the fielder.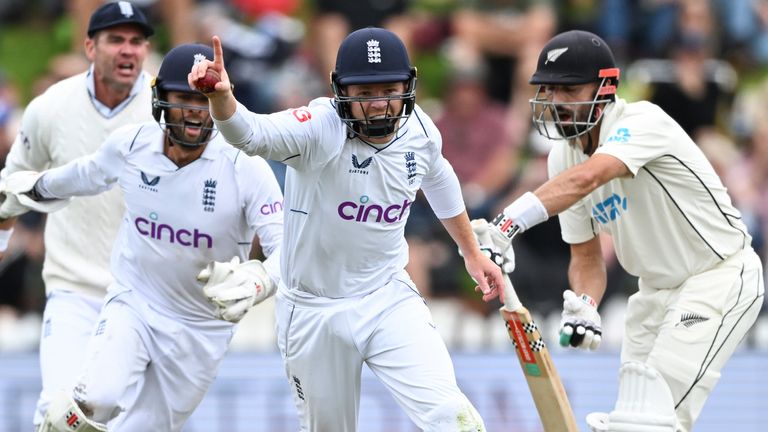 Black Caps captain Southee (23 not knocked out) decided to go on the offensive in the evening session and hit two sixes, but Bracewell's departure saw the hosts end the day at 138-7 as rain limited action for the second day in a row.
England "must earn the right" to enforce continuation
England batter Joe Root, speaking to BT Sports…
"Before the new ball, it felt like a really important time to try and capitalize. It seemed like a calculated risk to be a little more aggressive early on and really push the game forward by moving to a new ball.
"We conceded a few goals but still managed to score at a decent level. We tried to be unpredictable and make it difficult to set up the boxes so they knew what we were trying to do, but we still kept that rate constant at a gallop, which meant we were where we wanted to be when it came to bowling.
"Obviously there will be people thinking about (enforcing the continuation) but we have to earn that right and take those few wickets before making that decision… We have to be smart in the morning and figure out how best we can try to wrap things up this round, and I'm sure Ben will have an idea of ​​what he wants to do.
Follow England's second and final test against New Zealand at the Basin Reserve in Wellington on Sky Sports digital platforms, with coverage continuing from 9.30pm Saturday night.