In an era where digital technologies are transforming industries, generative artificial intelligence (AI) is at the forefront, revolutionizing the field of Web3 marketing. As generative AI-based tools are increasingly adopted, they offer unprecedented opportunities to create content and improve Web3 marketing strategies.
A recent study sheds light on this transformative trend. It offers in-depth insight into how marketers are using generative AI tools to boost creative performance, increase efficiency and accelerate the Web3 marketing cycle.
AI is taking Web3 by storm
Generative AI, an innovative branch of artificial intelligence, is imbued with the ability to produce diverse forms of content. These include text, images or videos triggered by humans. This technology has found a natural ally in Web3 marketing, a field ripe for breakthroughs and innovations.
Web3, also known as Web 3.0 or decentralized web, refers to a new generation of the Internet that aims to build a digital environment where users are in control of their own data and interactions. The concept is based on the use of blockchain technology and decentralized networks, giving rise to decentralized applications (dApps), smart contracts and decentralized autonomous organizations (DAOs).
Therefore, Web3 marketing refers to the strategies and tactics used to promote products, services or brands in the Web3 environment, built on decentralized networks and blockchain technology.
Last November, the Web3 marketing landscape witnessed a watershed moment with the introduction of ChatGPT. It is a generative AI chatbot by OpenAI, a reputable AI research company. Technology can create content autonomously, redefining the way marketing is done on the decentralized web.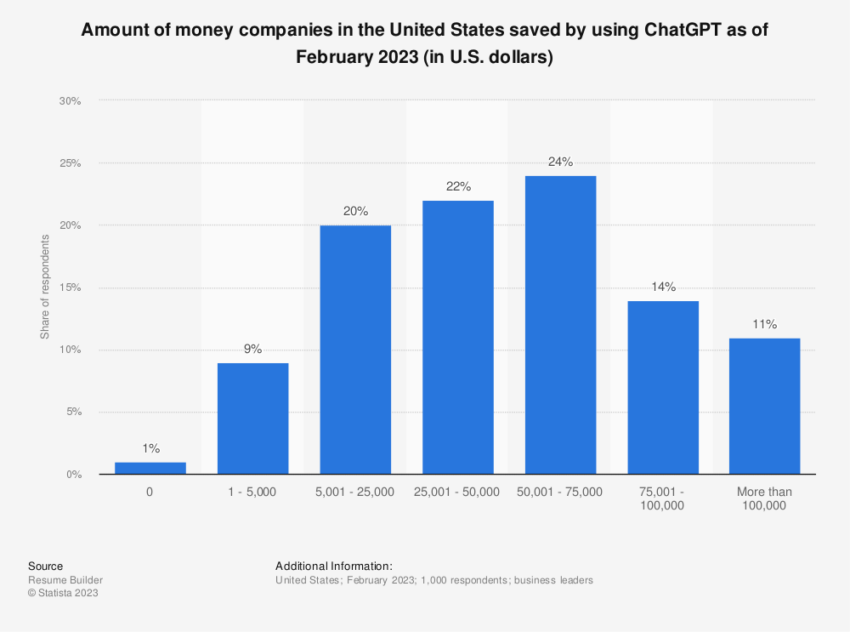 Other key players are also emerging in this fast-growing space. These include Google Bard AI, Copy.ai, Jasper, Midjourney and DALL-E 2. Therefore, these tools, powered by generative AI, can become instrumental in creating innovative and engaging Web3 marketing strategies.
According to forecasts by Allied Market Research, the global generative AI market is expected to grow exponentially. This significant piece of the Web3 marketing toolkit could reach a whopping $126.5 billion by 2031.
This represents a solid cumulative annual growth rate of 32% between 2022 and 2031. This further underscores the growing impact of generative AI in the emerging era of Web3 marketing.
Key Insights for Web3 Marketers
Diving deeper into the dynamics of Web3 marketing and generative AI, a recent study revealed several key insights. These findings shed light on a promising future that highlights the transformative role of generative AI in the evolving marketing landscape.
Generative AI and Web3: Of the companies that are not yet using generative AI, 31% plan to do so in the coming year and 46% in the next two years. 77% of these companies anticipate adopting generative AI during this period.
A Revolution in Web3 Content Creation: In the field of Web3, generative AI is mainly used to copy web pages. 48% of respondents expressed the likelihood of use now or in the future. Other potential uses include email copying (44%), social media content (42%) and social media images (39%). In addition, interactive chatbots for the customer (37%), website images (36%), SEO content (35%), blog posts (33%) and marketing/sales materials (33%).
Best Web3 Marketing Tools: ChatGPT leads the ranking as the most popular generative AI tool in Web3 marketing, used by 55% of respondents. Other notable tools include Copy.ai (42%), Jasper.ai (36%), Peppertype (29%), Lensa (28%), DALL-E (25%) and Midjourney (24%).
Advantages of Generative AI in Web3 Marketing: The benefits for marketers of applying generative AI to the Web3 space include increased productivity (58%) and greater creative diversity (50%). Plus cost efficiency (50%), faster creative cycles (47%), opportunities to learn and improve (39%), and increasing human creativity (34%).
Overcoming obstacles in Web3 Marketing: The main obstacles to implementing generative AI in Web3 marketing include team member training, cost, and privacy/security issues. This was highlighted by 50%, 45% and 45% of the respondents, respectively. Minor challenges include data scarcity (31%), poor content quality or inaccuracies (29%), and generative AI's unethical bias (24%).
Generative AI increases the ROI of Web3 Marketing: 66% of companies using generative AI in Web3 marketing reported a positive return on investment. 43% reported at least a 2-fold return on investment, and 22% confirmed a 3-fold return on investment. So far, only 7% have reported a negative ROI.
The future of Web3 marketing
The combination of Web3 and generative AI could redefine the digital marketing landscape. The distinctive features of Web3, such as decentralization, introduce innovative marketing strategies and content creation methods.
AI-powered tools such as ChatGPT and others provide Web3 marketers with the means to generate a variety of content, foster creative diversity, and accelerate creative cycles. Meanwhile, tackling unique challenges and seizing opportunities in the Web3 industry.
Nevertheless, as the industry moves towards this promising future, it is paramount that companies remain vigilant. Ethical considerations, data privacy and security issues accompany the adoption of this powerful technology. By keeping this vigilance, Web3 marketers can harness the power of AI to support a more efficient and user-centric ecosystem.
Traditional SEO strategies such as link building still hold sway in the Web3 realm. However, they adapt to a decentralized landscape. Building links in Web3 can mean making connections on blockchain networks, linking decentralized websites, or creating blockchain-based links.
This incorporation of link building into a decentralized structure further highlights the evolution of Web3 marketing strategies.
Reservation
In line with Trust Project guidelines, this article contains the views and perspectives of industry experts or individuals. BeInCrypto is dedicated to transparent reporting, but the views expressed in this article do not necessarily reflect those of BeInCrypto or its employees. Readers should self-verify the information and consult a professional before making a decision based on this content.