Four-year-old Zunaira watches an animated series for children Beloved monster on the top of the television screen as he lies in a hospital bed with six electrodes glued to his body.
Her 10-year-old brother Zain is busy with his iPad in the chair next to her in the clinical trials facility at Great Ormond Street Hospital (Gosh) in central London, whose white walls have been brightened with reproductions of children's drawings of leaves. They have come here to conduct a study on a new drug to treat a rare genetic kidney disease that can be fatal.
Before both children are injected with lumasiran for the treatment of primary hyperoxaluria type 1 (PH1), electrocardiograms (ECG) are taken to measure heart function and blood tests. The rare condition is caused by the buildup of oxalate, a substance normally filtered by the kidneys and excreted in the urine.
"She is very excited when she comes to the hospital because she is treated like royalty," says Zunaira's mother, Hafsah.
Zunaira received the drug, initially monthly and now every three months since she was three months old, as part of a clinical trial involving just five children. The results were so good that her brother Zain is receiving the same drug on a compassionate basis, a rare treatment option that allows an unauthorized drug to be used outside of research.
Her treatment is cutting edge for another reason: Zunaira is involved in an increasingly rare field of commercial clinical trials in the UK.
The declining nature of such pilot schemes has prompted leading health figures to warn of the risk to the UK's ability to develop state-of-the-art treatments and deliver them to patients.
At the Gosh Research Facility, which is funded by the National Institute for Health and Care Research, lumasiran saved children from needing a liver transplant – something their 13-year-old brother Amaan had to have at the age of six after he was diagnosed with PH1. a year before.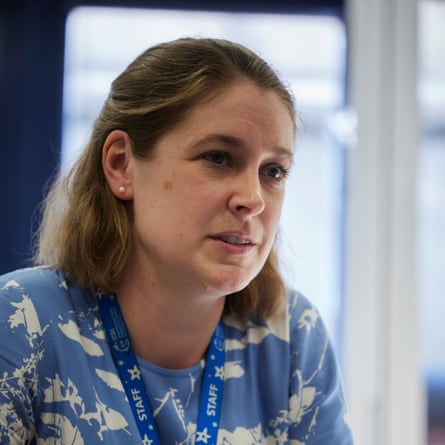 The family realized something was wrong when "he was sitting on the toilet and couldn't urinate," recalls Hafsah. Amaan was also perpetually tired and complained of bone pain, symptoms that the other two siblings avoided thanks to their treatment (Hafsah's fourth child is not PH1).
Amaan will have to take immunosuppressants every day for the rest of his life. "So, from having a child who has had a transplant to having a child who has just had an injection – there is a huge difference," says Hafsah.
The lumasiran trial is being funded by US drug maker Alnylam Pharmaceuticals, a $26 billion (£20.8 billion) Massachusetts-based company, which in this case is providing it free of charge (US list price is $61,451 for just 0.5 ml). The treatment was recently approved for use in the NHS by the value-for-money body, the National Institute for Health and Care Excellence (Nice), which is believed to have negotiated the discount.
Gosh, a research hospital specializing in rare and complex pediatric conditions, conducts around 400 clinical trials annually, some sponsored by drug manufacturers and others funded by charities or the government.
However, the UK lags behind other countries in conducting clinical trials, where new drugs are tested on volunteers to ensure they are safe and effective and to monitor for any side effects. The Swiss pharmaceutical company Novartis recently abandoned a large trial of a cholesterol drug in the UK.
According to the Association of the British Pharmaceutical Industry (ABPI), which represents around 70 drugmakers, the number of trials launched in the UK fell by 41% between 2017 and 2021, with a similar decline in cancer trials. The decline was exacerbated by the Covid-19 pandemic as NHS hospitals, which carry out most of each examination, became overwhelmed with frontline work; over 7 million people are on waiting lists for surgery or specialist treatment, a new record.
"Delays in starting and approving clinical trials, and the fact that trials are not fully embedded within the NHS, were already challenging pre-pandemic but have been exacerbated by the added pressure of the pandemic and the ensuing backlog," says Jennifer Harris, director of research and development. ABPI research policy.
Tom Keith-Roach, UK CEO of Britain's biggest pharmaceutical company, AstraZeneca, says the company was forced to look overseas for research. "The number of patients who could be recruited for clinical trials in the UK has been very difficult over the last few years due to the capacity constraints that exist on the front lines of the NHS. This means rebalancing these clinical trial programs in other centers… places like Spain and Poland." In a typical year, the company conducts more than 270 global clinical trials involving more than 46,000 patients.
Gosh's acting director of research and innovation, Dr Jenny Rivers, notes the "enormous complexity and magnitude of the workload and the competitive clinical pressures of the NHS" and says staff shortages – especially in areas such as radiology – and other pressures on workforce are a "huge problem" halting research.
"With Covid, we have shown that we can start research very quickly. The Recovery study, which began as the first in adults, was open to recruiting children less than a week after we approved the pediatric protocol," says Rivers, referring to the world's largest Covid-19 drug trial, which began in late March 2020. "The problem is that you're looking at scale and you're trying to open up many studies of high complexity at once."
The decline in clinical trials raises questions about the UK's ability to drive innovation and the benefits for patients, the NHS and the economy. Last week, a report from the Academy of Medical Sciences warned that the future of UK health research was at stake and suggested that hospitals that carried out such research "have better patient outcomes overall".
Access to new treatments through clinical trials is particularly important for the 3.5 million people living with rare diseases in the UK. Failing research also means less revenue for the NHS, as drugmakers pay an average of £9,000 per patient recruited to one. This contributed £355m to the NHS in 2018-19.