Rishi Sunak confirmed on Monday that he had reached an agreement with the EU to resolve issues with the Northern Ireland Protocol.
But after dealing with the press, he was sent to the House of Commons to answer questions from MPs of all stripes for two and a half hours about content of the contract.
So what were they thinking? We take a look at the main groups grilling the prime minister.
Northern Ireland MPs
DUP leader Sir Jeffrey Donaldson is yet to be ready to either condemn or commend the protocol replacements.
He told MPs that "significant progress had been made in many areas" but "key issues of concern" remained.
"My party will want to study the details of what has been published today," he added, saying it would be compared with the party's seven tests to arrive at an acceptable agreement.
But Sir Jeffrey told Mr Sunak that "sovereignty is key" so going forward, the government needs to reassure Northern Ireland that there will be no EU rules to create barriers to trade between NI and the rest of the UK.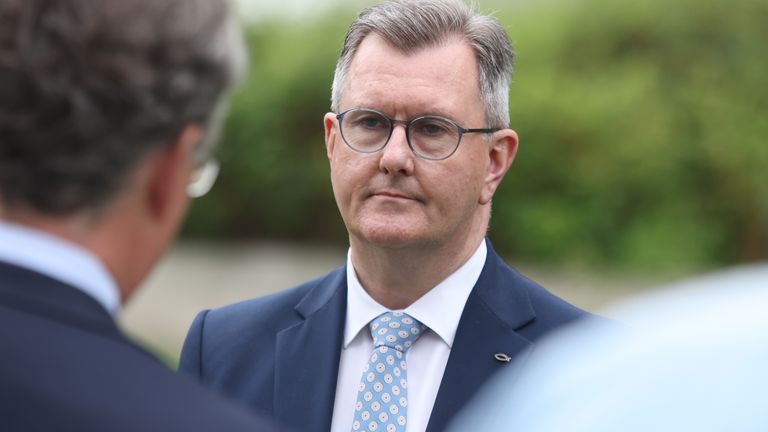 His DUP teammate Jim Shannon seemed more confident in his position. He said the deal was about "more than solar panels and sausages" – it was about Northern Ireland's place in the UK.
Mr Shannon spoke of any involvement of European courts in legislation affecting them, saying that "the real power must lie in Westminster, not in Brussels".
He added: "The prime minister cannot make any deal without the involvement of the majority of trade unionists.
"And pushing another deal through this House without a trade union buy-in will have no different outcome than another failed deal."
Another DUP MP, Sammy Wilson, described Mr Sunak's statement in the House of Commons as "an 18-minute confession … about the damage the (Northern Ireland) Protocol signed by his government has done to Northern Ireland."
And he questioned the so-called Stormont brake – which is designed to allow the Assembly to halt new EU rules and allow the UK government to veto them.
"We have no confidence in that," Wilson said, "and that is why we are still concerned that our position in Britain will not be restored."
Read more:
Five key sections of the Windsor Framework
But SDLP leader Colum Eastwood said his concerns about the brake were from a different perspective.
"There is a lot of talk about DUP concerns," he said.
"However, it is important to remember that most people in Northern Ireland have opposed Brexit and want the benefits of dual access to the (EU single market) to be put to good use."
His point was echoed by Stephen Farry of the Alliance Party, who feared it could "add more instability" to Northern Ireland if access was compromised.
Tories
There have been no outright condemnations of frames from the Tory benches…so far.
Neither Boris Johnson nor Liz Truss were in the House – although a source close to Mr Johnson told Sky News he was "still studying and considering the government's proposals".
Sir Edward Leigh was the closest, warning that if the deal doesn't get the NI Assembly back on track "it's pretty futile – it could actually be downright dangerous".
He added: "I can assure him that many of his colleagues on these benches are watching the DUP very closely and we will go where they go."
Theresa May – the first Conservative prime minister to try to negotiate a deal that was removed by her own MPs for not agreeing to one they liked – congratulated Mr Sunak on the new deal, saying it would "make a huge difference".
She said the Northern Ireland Protocol – negotiated by her immediate successor Boris Johnson – was "the European Union's preferred proposal for a border on the Irish Sea".
She added: "The best move now is for everyone in this House to support this deal as it is in the best interests of all the people of Northern Ireland."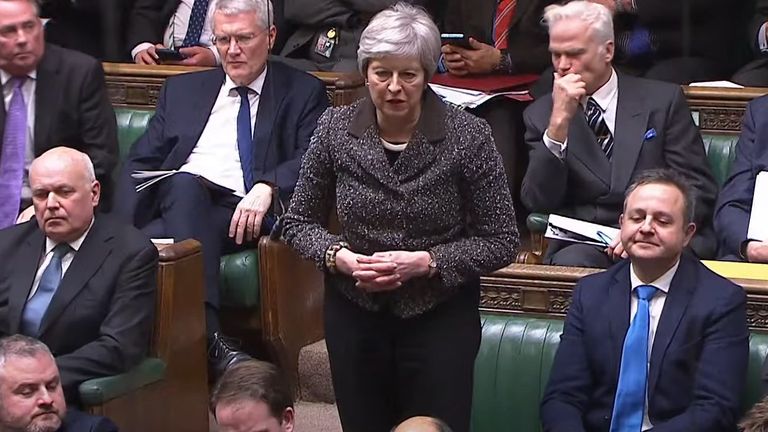 Former Brexit secretary and cause cheerleader David Davis also wholeheartedly supported the framework.
He offered "unconditional congratulations" to Mr. Sunak, called it a "spectacular success" and praised the "extraordinary mechanism" of the Stormont brake.
"It was a brilliant piece of negotiation, insight and imagination," he said.
Andrea Leadsom – another leading Brexit campaigner – said if this deal had been presented at any point in the last five years, "those of us who were Brexiteers, Unionists and Remainers would have jumped on it".
But Sir Bill Cash said that "the devil, as always, is in the details".
Views of the opposition
Offering his support for the deal, Labor leader Sir Keir Starmer told the House of Commons: "We will not shoot. We will not try to play political games.
"And when the prime minister puts this deal to the vote, Labor will vote for it."
He said the plan would "never be perfect – it's a compromise", but added: "I've always been convinced that if implemented correctly, it's a deal that can work in the spirit of the Good Friday Agreement.
"And now that it's been agreed, we all have a responsibility to make it work."
However, Sir Keir took the opportunity to attack Boris Johnson for telling the public that there would be no controls in the Irish Sea under his previous deal, saying the claim was "nonsense".
"(It was) an outright refusal to cooperate with unionists in Northern Ireland in good faith, let alone take their concerns seriously," he added. "And it inevitably contributed to the collapse of the separation of powers in Northern Ireland.
"And I was wondering if after the Prime Minister listed all the problems, he forgot who negotiated it.
"So, in outlining what this deal means in practice, I am appealing to the prime minister to be completely different from his predecessor."
'We won't shoot': Labor promises to withdraw deal

Perhaps unsurprisingly, SNP MPs were unimpressed with the deal, believing that a return to the EU would be the best thing.
"Brexit has been a complete disaster," said Westminster party leader Stephen Flynn.
"And what this deal doesn't do is create parity between these nations."
He said Northern Ireland businesses would continue to have access to the EU single market while Scotland would not.
"I have no regrets for Northern Ireland companies, but I do wish Scotland had the same opportunities," he added.
Liberal Democrat leader Sir Ed Davey said his party needed to study the deal but welcomed the "spirit of partnership and compromise between the UK government and the European Union" in reaching a deal.