INBy the time Eduardo Camavinga took the ball at the start of the game-changing action and decided the draw, setting up what promises to be a great rematch next week, 36 minutes had passed and Manchester City, a team that had won 16 games in a row, were over 3o0 passes. They had 72% possession and 100% shots, 6-0. Thibaut Courtois made four saves, Rodrigo Hernández being the best save, taking his Champions League tally to 26 of his last 26 shots. And the Frenchman was still far, far away in his half, surrounded by an area. But it didn't matter.
The full-back midfielder, suddenly the Frenchman was flying, the noise increasing with every step, as if they knew. It's not that it was a chance, not really, it's just that everything is a chance here, and when Camavinga got to the other end, from one place to another, he found Vinicius Júnior 20 meters away. It wasn't accidental either, but the Brazilian's shot flew through the air in the net, leaving him standing in the corner, hitting his chest, that badge, that place going wild. remember us?
It was another proof that Real Madrid do many things so well, and waiting is one of them. Somewhere in the middle of this, the greatest club of all, there is the humility to go with superiority, the confidence that their chance will come, but the acceptance that the other team is playing too; that sometimes they can even play better. And that when they do, it's not a reason to break down, much less lie down and die, but to hold on, to survive until you slip into the knife. Because there will always be a moment and then you have to take advantage of it.
Here, as is often the case, they succeeded. The difference from last year was that City did the same. At the end of that tie, secured with two stunning shots at the north end, the two were still standing ready to do it all over again. Pep Guardiola may feel his team has a slight advantage after City equalize in the second half, but he knows it's not over, not least because Madrid are apparently never finished, something he's learned the hard way many times. Therefore, it may even seem like a breakthrough, a reversal of the situation. However, Luka Modric insisted: "We are going there with faith."
For the first half hour here he was tested again, but after all, they had been here before. "We've been patient," he said. It may seem unlikely, but it is the key word.
In addition to luck, magic, destiny, divine intervention, which led Madrid to the most extraordinary Champions League in the history of last season, there was also patience – knowing that being the best is not always enough, and sometimes it is not even necessary. Not all games, anyway. As Rodri put it, City were the better team for 120 minutes last year and lost it all in five. Former Barcelona manager Ernesto Valverde said it even better: the moment you think you are closest to beating Madrid is the moment you are closest to losing to them.
City haven't lost here and will rightly see that progress, possibly even as an advantage in the rematch, not least because they're home this time around. However, they saw again that this is a team you never completely control, even when you seem to have it under control, and the worst thing you can do is think you have it. When you have the upper hand, you have to lead him to his goal again and again. And then you have to go home for a while.
Instead, with City dominating the seemingly better opening here, one can imagine Madrid thinking: Is that all you got? It was all a bit bloodless and not unexpected: "There will be times when we have to run after the ball," said Toni Kroos, and it happened. Carlo Ancelotti said: "They had more possession in the first thirty minutes, but we weren't worried about that because we were well positioned. We were waiting for the right moment to change."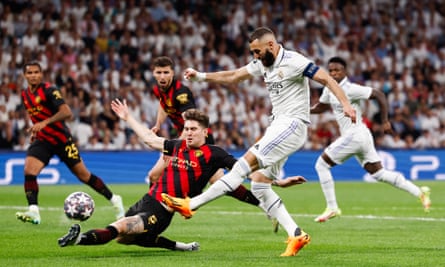 In the 36th minute it was: a deft 1-2 with Modric and Camavinga running freely, the familiar fear of a comeback, the roar that was about to take the place. Even inevitability. Madrid went into the break with one shot, 0.03xG, and led.