Four spears stolen from Kamay, now known as Sydney's Botany Bay, by Captain James Cook, then Lieutenant, and his crew are due to be returned to their traditional owners after more than 250 years.
The Kamay spears were among 40 recorded as being taken on HMB Endeavor in 1770, at the time of the first contact between those aboard the ship and the local people of Gweagal.
The spears have been in the hands of Trinity College, University of Cambridge, since arriving in Britain in 1771.
The long spears were "cut down" so that they could be transported by ship to England.
Noeleen Timbery, chairwoman of the local Aboriginal Land Council in La Perouse, said she looked forward to their return after more than a decade of negotiations with Trinity College, the National Museum and the Australian Institute of Aboriginal and Torres Strait Islander Studies.
"I haven't stopped smiling since I heard the news. To hear that they are coming back and that they are coming back to stay is unimaginable," she said from Bare Island in La Perouse, near where the spears were originally taken.
The union was the culmination of "patient" work between the local Aboriginal community and the university.
"We've been working on this and talking about it for a very long time," Timbery said.
"We attach more importance to building relationships with foreign institutions, with institutions from Australia. So that we know we're going to get it right and that it will make a difference for everyone involved."
Dharawal member and chairman of the Gujaga Foundation, Ray Ingrey, said the repatriation of the spear was a welcome step towards recognizing a shared history that began on the shores of Kamay.
"It's culturally important," he said.
"But for all Australians it is important because it is the first point in our collective Australian history as we know it today."
Ingrey said the story of the spear was part of wider stories told by generations of his elders, but their return was bittersweet as many die to see them return home.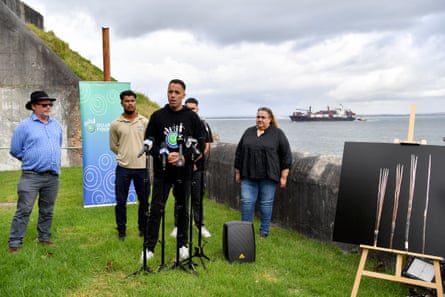 "Our old people always talked about it. It wasn't set by our generation, it was set by the old people of Dharawal, especially the women. I think they would look down on us, proud of what we achieved today.
The return of the spear back to the country still needs to be formally approved in the UK by the Charity Commission to allow Trinity College to grant ownership to La Perouse Aboriginal Land Council and the Gujaga Foundation following their request for repatriation.
Senior curator at the National Museum of Australia, Dr Ian Coates, said the repatriation of cultural artifacts removed from their traditional owners and communities and stored in institutions overseas is a contentious issue.
"The National Museum of Australia in Canberra often negotiates with our other partners abroad. But it really depends on these institutions what happens to these collections.
"As for materials in other collections or by other institutions, it will be up to those institutions."
Once formally approved, the spears will return to Australia over the next few months to care for the institutions there. After further consultation with the community of La Perouse, they are expected to have a permanent home in a planned visitor center to be built in Kurnell.