"Tuncertainty was the biggest challenge. So this is good progress," says Andrew Lynas of a new deal struck Monday between the UK and the EU to try to end the dispute over the Northern Ireland Protocol.
For the managing director of Lynas Foodservice, a Coleraine family business, the post-Brexit trade deal has caused major headaches. But what he sees as far more important than the risks of extra paperwork, costs and broken relationships with English suppliers is the subsidence of the political storm.
"Stability and certainty are great assets for us as a company. At least if our suppliers – whether they are in Birmingham or France – know what the realities of working with us are, then we can move forward."
After Rishi Sunak and European Commission President Ursula von der Leyen agreed on a new update to the Windsor framework trade rules on Monday, businesses across Northern Ireland welcomed the progress made.
In a statement, the region's 14 largest business groups praised the "significant efforts" by both sides, while urging them to continue working together to help companies adjust.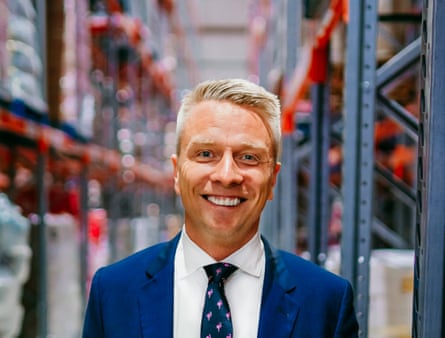 Lynas Foodservice is perhaps the perfect case study of the collapse of trade between Northern Ireland and the rest of the UK; is the largest family-owned food supplier on the island of Ireland, sending over 3,000 deliveries a day to pubs, cafes and restaurants in the region, as well as Scotland and the Republic of Ireland.
The costs and complexity of doing business have skyrocketed since Boris Johnson's 2020 Brexit deal, which – contrary to promises – led to some checks on goods arriving from the UK. "There are a few people in this business that exist because of the complexity and paperwork," says Lynas.
"There was cost and fear of how to deal with a supplier from Northern Ireland?" and whether that (could) change in a few months."
But the company, which has 700 employees and a turnover of £180m a year, has coped with the headache, while Lynas says compromise, minimizing tensions and a functioning society are much more important. "Unfortunately, we've had much worse battles in Northern Ireland than protocol, so we figured out how to deal with that," he says.
"The most important thing for me is that Stormont has to work. As a businessman, as someone in society, we just need a functioning government. I just hope and pray that we're going to come out of this."
"Now common sense has taken over," says Michael McGrath, owner of Crushing Screening Parts, a small business selling auto parts from rural County Derry to countries around the world. "Thank God the adults are back at 10 Downing Street. It's been a long-running saga of arguments, disagreements, arguments and misunderstandings that hasn't helped anyone."
He says his company has benefited from the protocol by effectively keeping Northern Ireland in the EU's single market for goods. "Sales with the Northern Ireland Protocol to the UK and EU remain duty free," reads the banner in his email signature, expressing a sentiment shared by many, but not all, businessmen.
"I don't think much has changed. As long as there is no change in access to the single market, the rest is just noise."
Declan Gormley, managing director of Brookvent, which exports hundreds of ventilation products from its base in Belfast to the Republic of Ireland, the rest of the UK and the EU, agrees. "For some, it's a curse. But the truth is, we have the best of both worlds," he says.
"We continue our relationship with the UK and the EU market. Over the last decade, we have grown significantly thanks to access to the EU and the possibility of expansion into Poland and other countries. It works very well for us."
But smoothing the troubled political waters in the region is a key priority, made possible recently by "much more coordinated efforts" at Westminster and Brussels to overcome obstacles. "Previously, prime ministers have come to us and promised no checks or told people they would break the deal and throw it in the bin. It was all completely confusing and gave people a completely wrong perspective," says Gormley.
"We want good relations with our neighbours, whether in England, Scotland and Wales or in Europe. It doesn't help anyone to maintain an antagonistic relationship."
What is certain, however, is that there is still much to be done. Business leaders from 14 leading industrial groups say the details of the Windsor deal will still need to be thought through, while bosses say the DUP's response will be important.
"Given Northern Ireland is Northern Ireland, I could wake up tomorrow and say to you, 'Everything we talked about? Forget about it.' You just don't know," says Gormley.
"But my hope is that we are now on the way to some form of resolution where everyone feels something has come out of them and can move on to more positive things."