The era of PCIe 5.0 SSDs has arrived. They were teased and demonstrated for months. While they're not widely available yet, you can get them if you want. But beware, they can get very hot.
Manufacturers of motherboards and cooling systems know this. Many AMD 600 and Intel 700 series motherboards feature massive SSD heatsinks. But the problem with them is that they tend to sit next to the heat dissipating graphics card, and in some cases absorb heat instead of dissipating it. Ideally you would take the heat from the SSD and extract it. This brings me to the Teamgroup Siren Duo360 AIO cooler (opens in a new tab). It's a 360mm CPU cooler, but its main claim to fame is its inclusion of a block to cool the high-performance SSD in a loop.
Are you skeptical? When I heard about the Siren Duo360, I was too. But after seeing how nuclear some of the new SSDs can be, I'm confident there will be many more coolers of this type in the coming months and years.
The Teamgroup Siren Duo360 is certainly innovative, but comes at a hefty price. $399/$599 is a lot for a universal liquid cooler. At this price, it's comfortably more expensive than any other 360mm AIO cooler I've come across.
Yes, it's expensive, but let's see what this innovative AIO device can do before we pass judgment. Is it an ultra-luxury extravagance or a look at the new future of AIO cooling?
Teamgroup Siren Duo360 is a stylish white AIO PC with ARGB fans with hydraulic bearings. It supports almost every socket released in the last decade, with the exception of the AMD Threadripper series.
Sirena Duo360 specification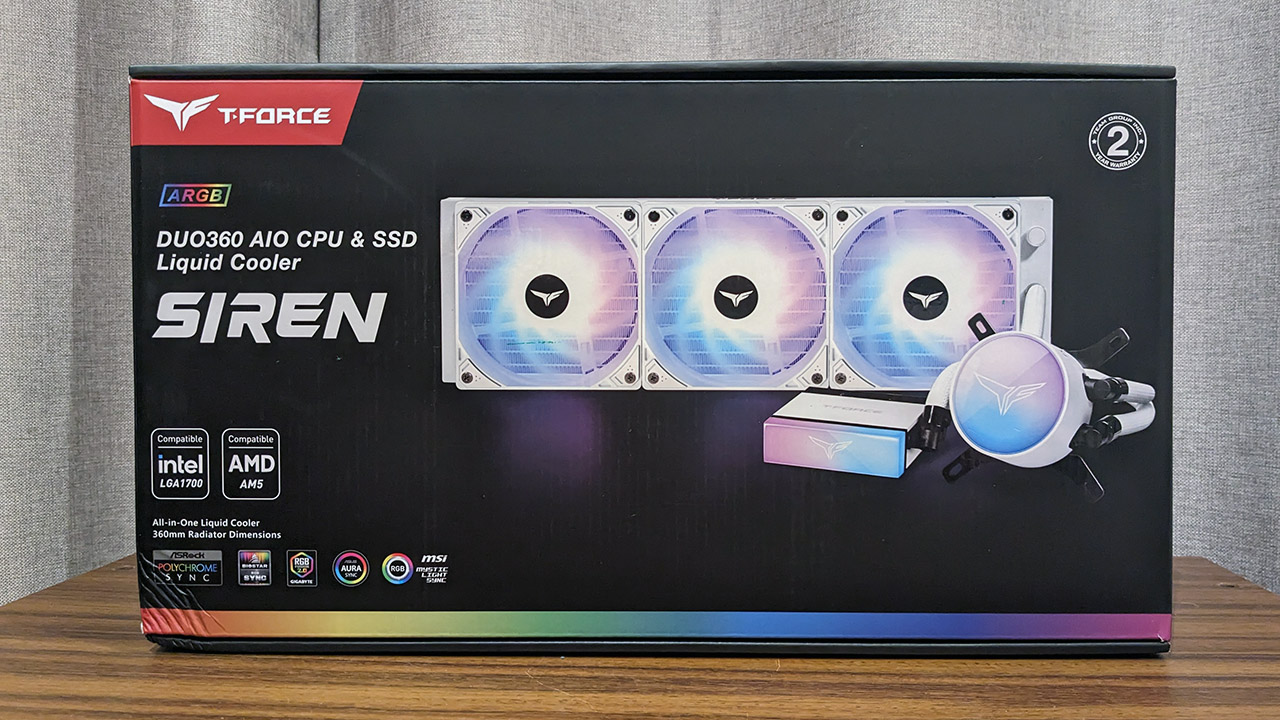 Intel Processor Compatibility: LGA 1150/1151/1155/1156/1200/1200/1700/2011/2011-3/2066
AMD Processor Compatibility: AM5/AM4/FM2+/FM2/FM1/AM3+/AM3/AM2+/AM2
Compatibility with SSDs: M.2 2280
fans: 120mm x 3 hydraulic bearing fans
Fan speed: 600-2200 rpm
Noise level: max 39.5 dB(A)
pump speed: 4000rpm
Radiator dimensions: 396x120x27mm
Guarantee: 2 years
Price: $399 (opens in a new tab) / AU$599
The CPU block is a bit more compact than what you might be used to. That's because the 4000 rpm pump is integrated into the cooler instead of the CPU block. It has beautiful diffused ARGB lighting. My test sample featured a finely machined copper base with an almost mirror finish. Pretty!
Most high-end AIO coolers come with an integrated LCD, like the MSI MEG Coreliquid S360, which is missing from the Siren Duo 360. You judge if that's important to you. I understand that Teamgroup is focused on the M.2 solution, but I think if you are going to sell the most expensive AIO on the market, it should be equipped with all possible features.
The M.2 block is the obvious best selling point of the device. It's taller than you'd expect, thanks in part to the magnetically attached ARGB unit. This means you can put it elsewhere if you choose. The block is well built and heavy. The base plate is clean and very smooth, as is the CPU base plate.
The included T-Force fans are designed for optimal static pressure and are used with radiators. They are rated for 600-2200 RPM and have a dBA rating of up to 39.5, which looks high on paper but is still below what I've seen in testing.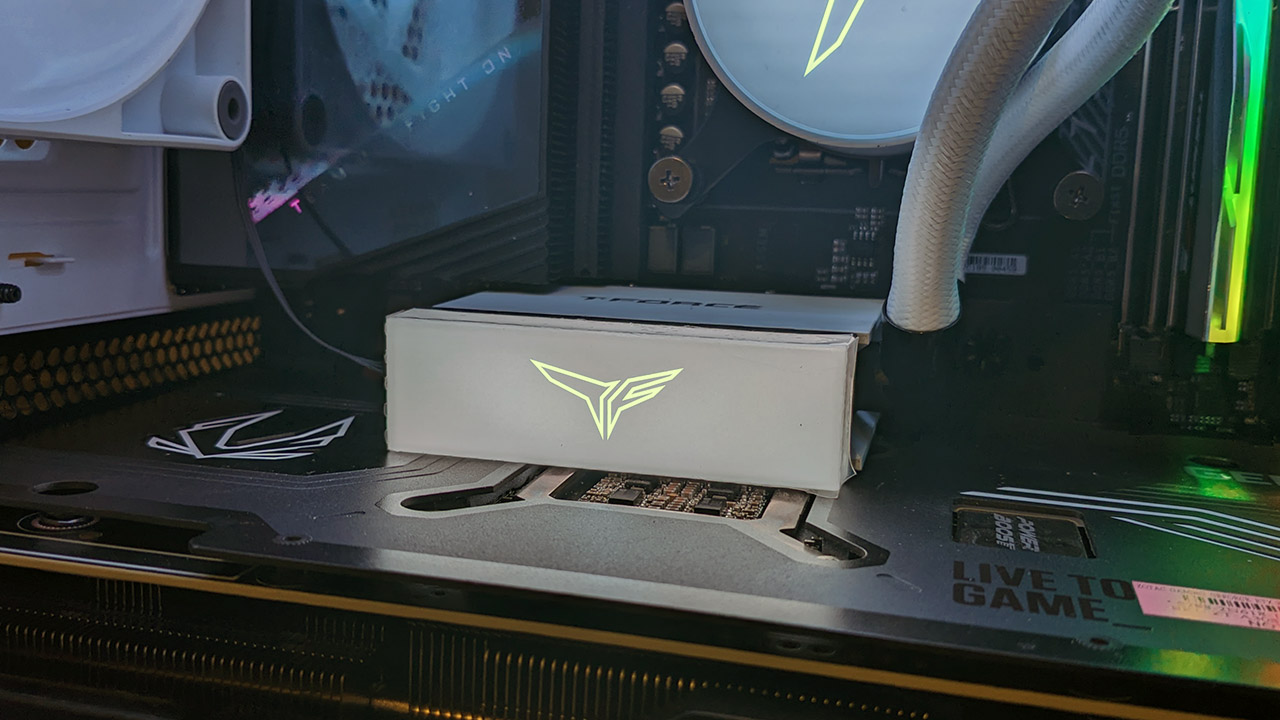 For CPU testing over the past few years, I've used a Ryzen 7 5800X system and an Asus Crosshair VIII Dark Hero in a Razer Tomahawk ATX case with limited airflow. However, this system lacks PCIe 5.0. So, for this review, I also used the Intel Core i9 13900K (opens in a new tab) and the Gigabyte Z790 Aorus Master (opens in a new tab) motherboard to test the SSD waterblock. I will eventually transfer my cooling results to an updated system that includes PCIe 5.0.
And when it comes to testing SSDs, Teamgroup provided the Z540 Cardea 2TB PCIe 5.0 drive (opens in a new tab). I have been asked not to provide specific performance results for this drive as it is not the same as the retail 12,000MB/s version. Its goal is to see if PCIe 5.0 drives are as nuclear as we thought, and if M.2 liquid cooling is a gimmick, essential or somewhere in between.
Let's start with the results of CPU cooling.
In terms of CPU cooling performance, the Siren Duo360 performed as expected, broadly on par with some of the other 360mm AIO coolers I tested. I used the Ryzen 7 5800X in a closed case for testing in an environment with a temperature of 22 degrees and recorded a peak load temperature of 72 degrees.
As for the noise level, the 4000rpm pump bumped up the base noise level a bit, but at idle the noise level of the Duo360 is still perfectly acceptable. However, the noise level really increases when you set the fans to 100%. In fact, under load, it's one of the loudest coolers I've ever tested. Thankfully, there shouldn't be a need to ramp up to really annoying levels under typical gaming loads, even with high CPU core counts.
The M.2 cooling results were both surprising and not surprising, if that makes sense. First, the SSD block has a dramatic effect on the temperature of the Z540 Cardea SSD. As you can see in the chart above, the temperature drop was an incredible 26°C. I knew it would be better, but I didn't expect it to be this high. This alone largely confirms the benefits of proper M.2 cooling. A cooler drive should last longer. In theory, fewer large up and down heat cycles will help protect the drive and its data.
There is no doubt that water cooling is superior to air cooling in terms of heat transfer from the drive itself to the radiator. The last thing you need is a passive M.2 heat sink absorbing GPU heat, even if it's large.
Since I haven't tested any other PCIe 5.0 SSDs yet, my data is incomplete. I plan to return to the topic of SSD cooling as I test more PCIe 5.0 drives, and pay particular attention to throttling (or not) in a wide range of benchmarks, both real and synthetic.
I decided to use an internal copy of the file to destroy the disk controller and cache subsystem. To be honest, I expected the drive to throttling more than at high temperature and it did, but only towards the end of the transfer. A difference of six seconds or 10% is certainly an improvement, but that's after a full minute of 100% load. This kind of load doesn't happen very often, and if you're gaming or doing mostly read operations, a heavy load on the SSD will be measured in seconds, not minutes.
It's just one ride. I look forward to testing more drives and seeing the performance impact of the Duo360. Is water cooling the future of SSDs? I'm afraid I'll have to take the lazy option and say the jury is still out, at least until more data is available for proper analysis.
The Teamgroup Siren Duo360 is an innovative cooler that will definitely benefit users using hot M.2 SSDs, but only under intense workloads. It is generally quiet, although it gets loud when pressed hard.
It is well built and looks great. Installation is generally easy, but so is any modern AIO cooler. The use of three ARGB fans and two blocks means there's a lot to tidy up with cables, but with good planning and a friendly case, the cables will pretty much stay hidden.
I really like the Siren Duo360 as a complete cooling kit. However, it is very expensive at $399 / AU$599. UK pricing has yet to be revealed but it's safe to assume it will cost more than any other 360mm AIO on the market, certainly over £400.
So, while this is certainly an innovative and highly functional refrigerator, it is only for ultra-enthusiasts. Still, I like it. We could be eyeing a new class of liquid cooling that is sure to reveal its potential when faster PCIe 5.0 drives become available in the coming months.