Corsair has done the impossible: it has created a truly exciting new power supply. To achieve this magnificent feat, all the connectors were taken, made smaller and moved to the side of the power supply. NO, Other side. The end result is a power supply that is incredibly easy to build, provided you have the right enclosure.
RM1200x SHIFT specification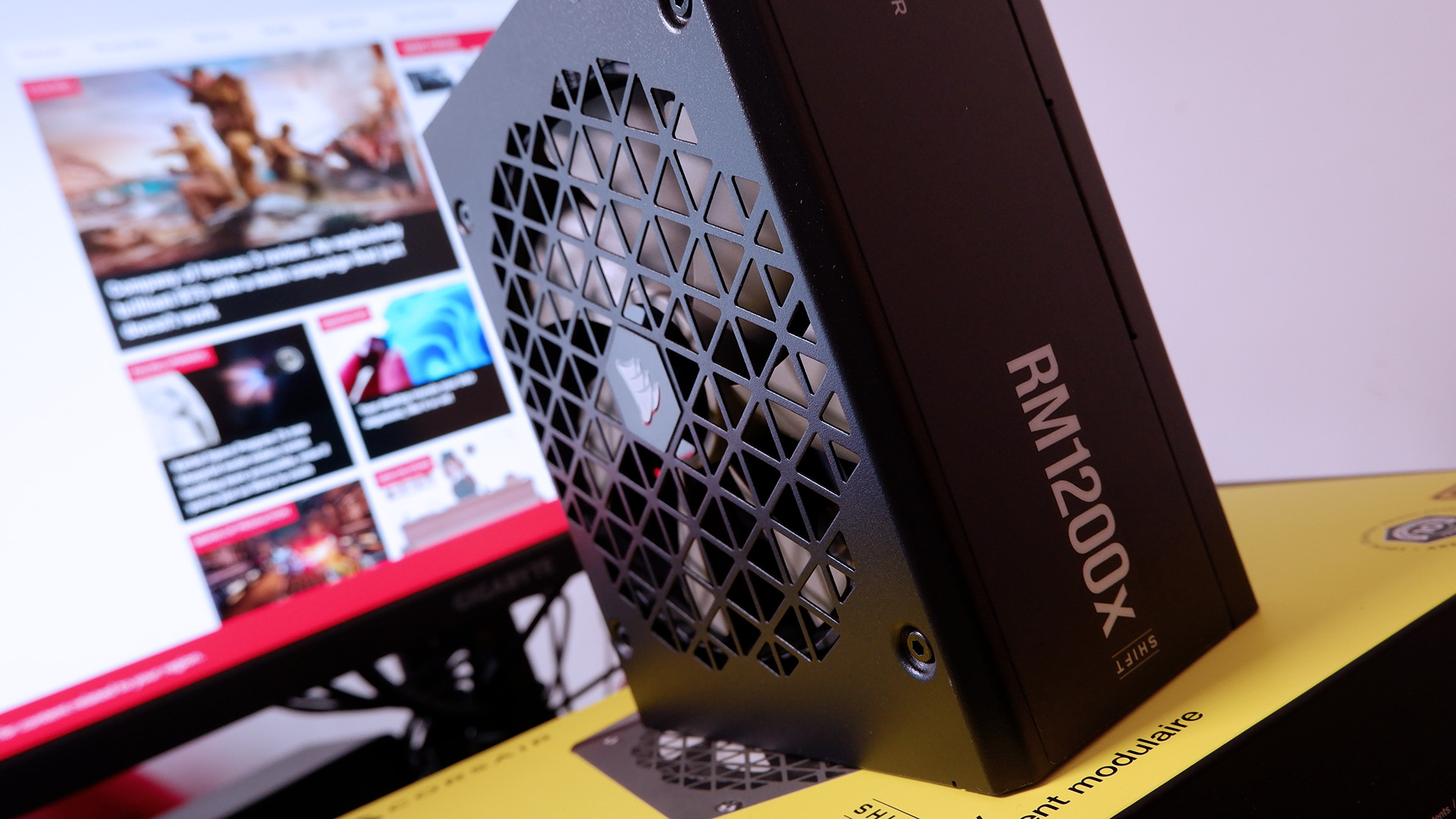 Power: 1200
Modular: Yes
Connectors: 24-pin x1, 4+4-pin x2, 12VHPWR x1, 6+2-pin dual x4, 6+2-pin single x4, SATA x16, PATA x8
OEM: Channel Well Technology (CWT)
80 Plus: Gold
Fan Size: 140mm
Price: $270 (opens in a new tab) | 260 pounds (opens in a new tab)
Fortunately, I only have this: the Corsair iCUE 5000T (opens in a new tab). This standard mid-tower is the perfect candidate to try Corsair's new-fashioned PSU. There is enough space on the side panel for the power cables to protrude from their oddly placed connectors, about two inches, and the PSU is traditionally mounted with the fan pointing downwards.
I suspect many popular case designs will work with the RMx SHIFT line, however, as I found out by looking at the NZXT H9 Elite, not all of them are suitable. In this case, the fan on SHIFT is facing the motherboard tray, or the side-loading cables are inaccessible due to the PSU bracket. It's unthinkable.
However, the 5000T fits great. Inside this case is currently the EVGA G2 850W PSU, which I've been using in one build or another for about half a decade. It's definitely time to change that. Since I also have the monstrous Gigabyte Aorus P1200W (opens in a new tab) in this machine – a power supply with a programmable screen – and I have an AMD RX 7900 XTX (opens in a new tab) while waiting for installation I opted for the highest wattage RMx SHIFT PSU to replace the 850W G2.
This is RM1200x SHIFT. It's an 80 Plus Gold certified power supply, rated Cybenetics Gold for efficiency and Cybenetics A for noise by our buddy Aris Mpitsiopoulos. You can check out the short version of the Cybernetics evaluation (opens in a new tab) [PDF] for yourself if you want to go deeper into the details. One of the key takeaways is that the RM1200x SHIFT uses the same OEM Channel Well Technology (CWT) technology as the Corsair RMx (2021) line, which we currently rank as the best gaming power supply (opens in a new tab).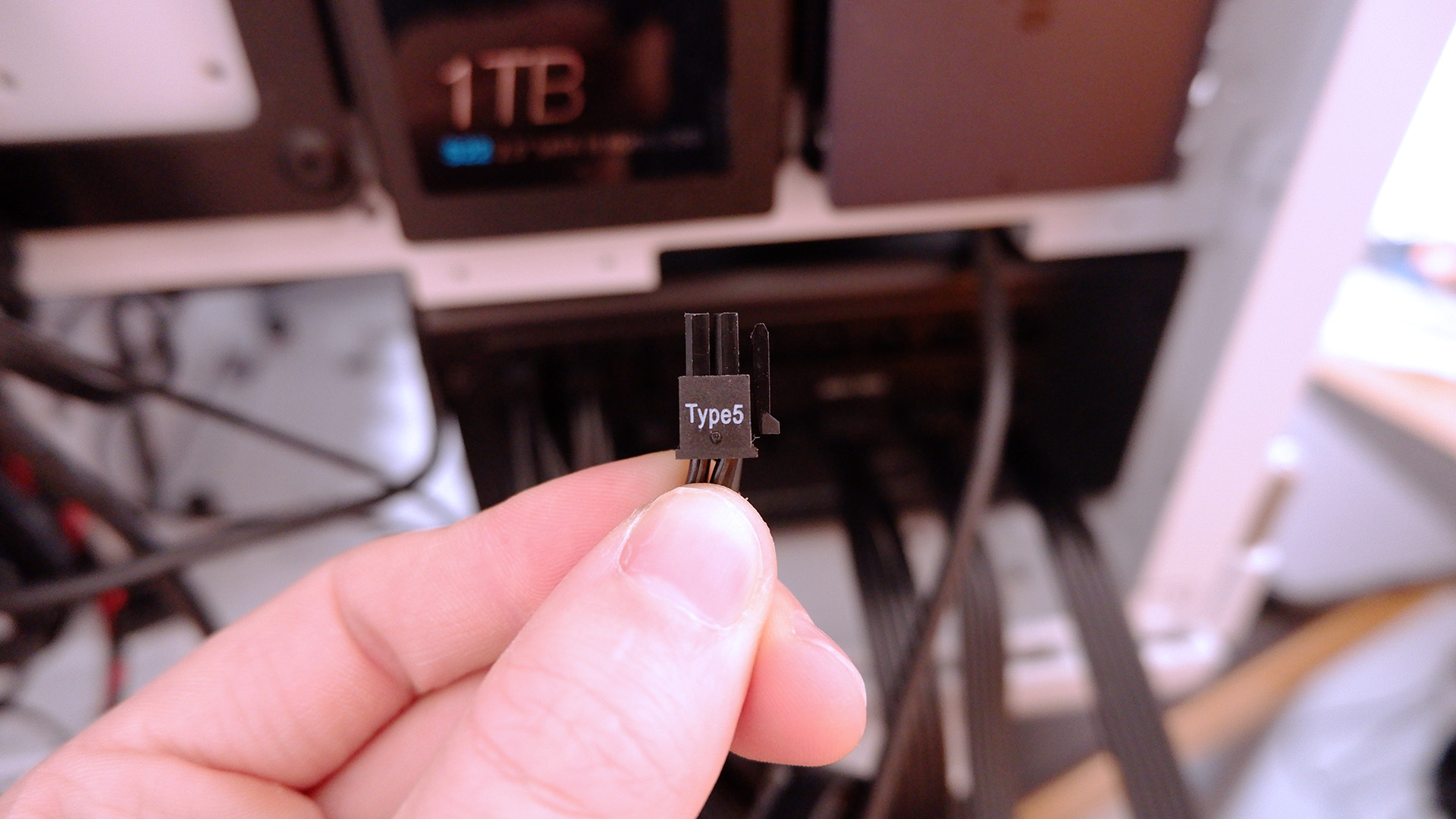 Since the RM1200x SHIFT has been deemed worthy for my rig, it's time to unpack this beauty. Inside the box, you'll find the power adapter, a somewhat tacky-looking bunch of loose cables, and a wall plug cable.
Strange looking power supply. Not only because all the connectors have been cut and glued along the entire length, but also because it is full of micro-fit connectors. Each of the many cables that plug into it are miniaturized versions of the ones we've come to expect from most PSUs these days, and the four-pin micro-fit SATA is especially sweet – it looks like it came from a self-designed Kid's PC Kit.
---
@pcgamer_mag (opens in a new tab)
♬ original sound – PC Gamer (opens in a new tab)
---
Although these micro-connectors are used to save space on the power supply, this is an ATX 3.0 power supply and as such comes with a single PCIe 5.0 12VHPWR cable in the box to connect a high-end RTX 40 series graphics card. There are also eight PCIe 6+2 pin connectors (four dual/four single) for everything else, including the RX 7900 XTX I will be installing.
For building; the first step is to remove the 850W G2. Once you've done this and positioned both PSUs side by side, you'll get a better feel for the scale of the micro-fit connectors on the RM1200x.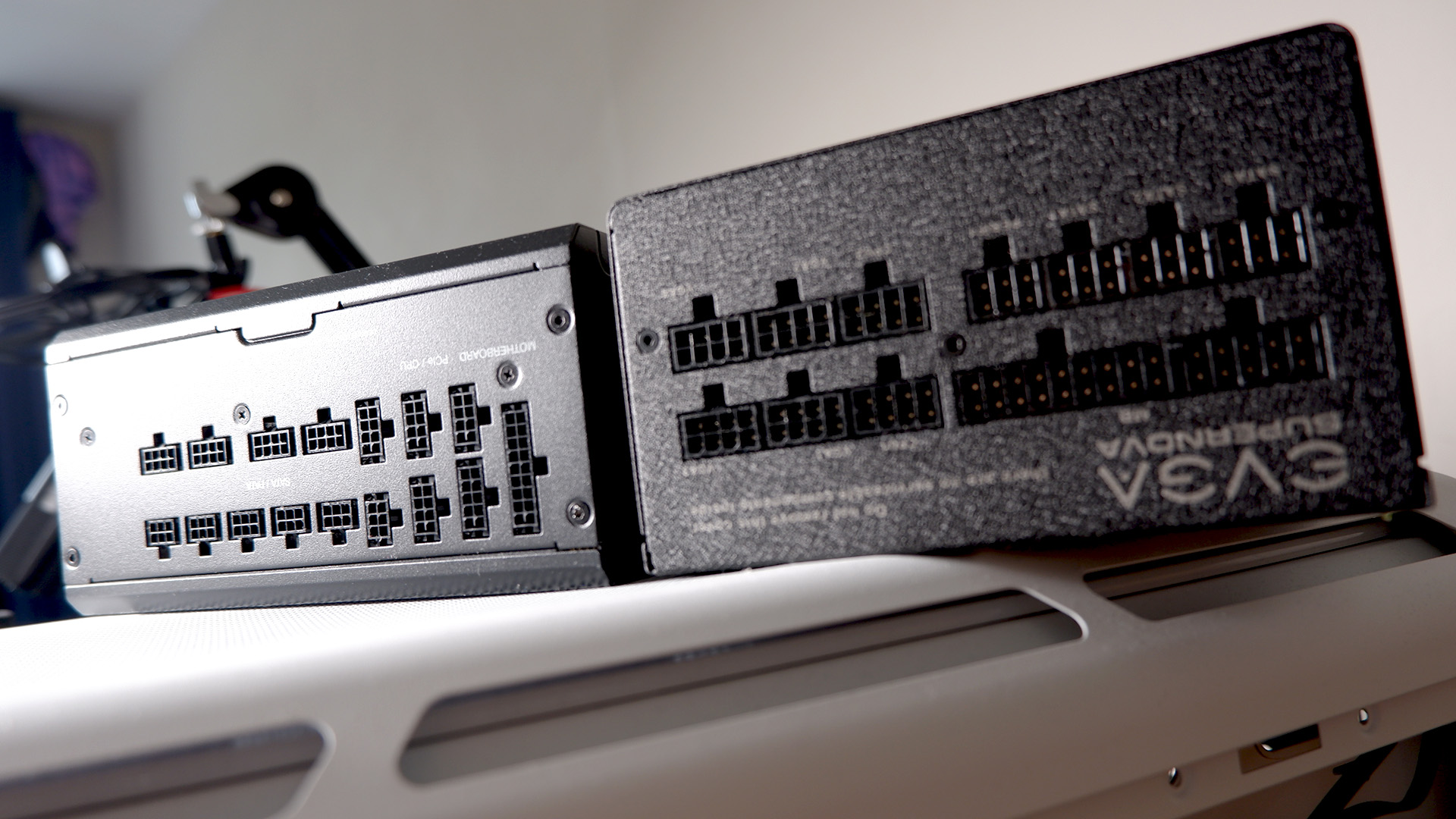 Then load the RM1200x SHIFT into the machine. This is where my build process first shifts from SHIFT to the standard PSU form factor. I usually recommend allocating the cables needed for the computer and connecting them to the power supply before loading them into the chassis. That way, you don't have to fiddle with hard-to-reach connectors or cumbersome cables after the fact. With SHIFT, this is not necessary.
With SHIFT, all it takes is to put it right side up (in my case with the fan pointing down) and screw it in. It doesn't save much time, but it makes switching cables to add or remove parts down a lot easier.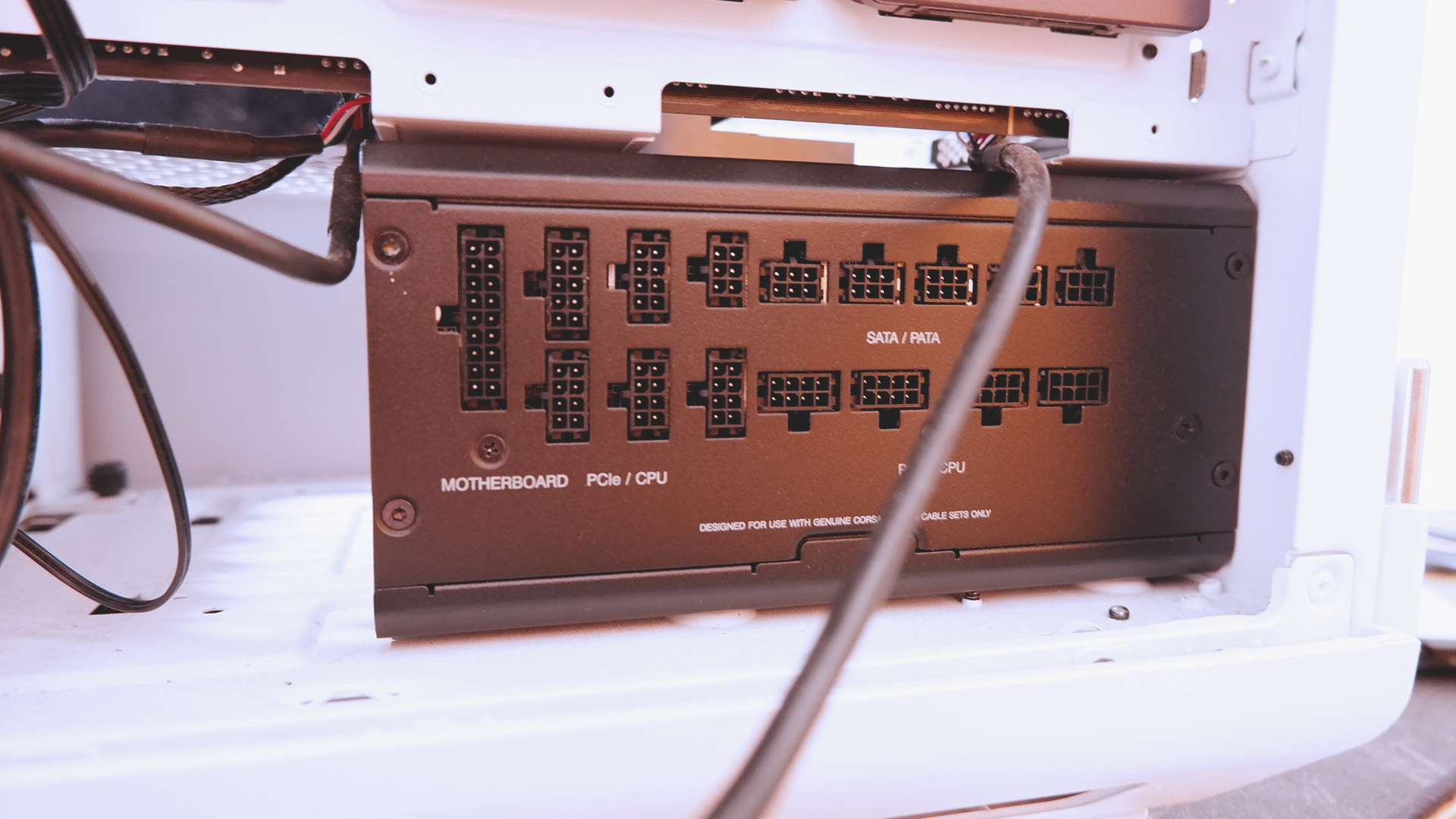 Now it's time to grab the cables and connect them one by one. Of course, again noting how cute the little SATA cable is.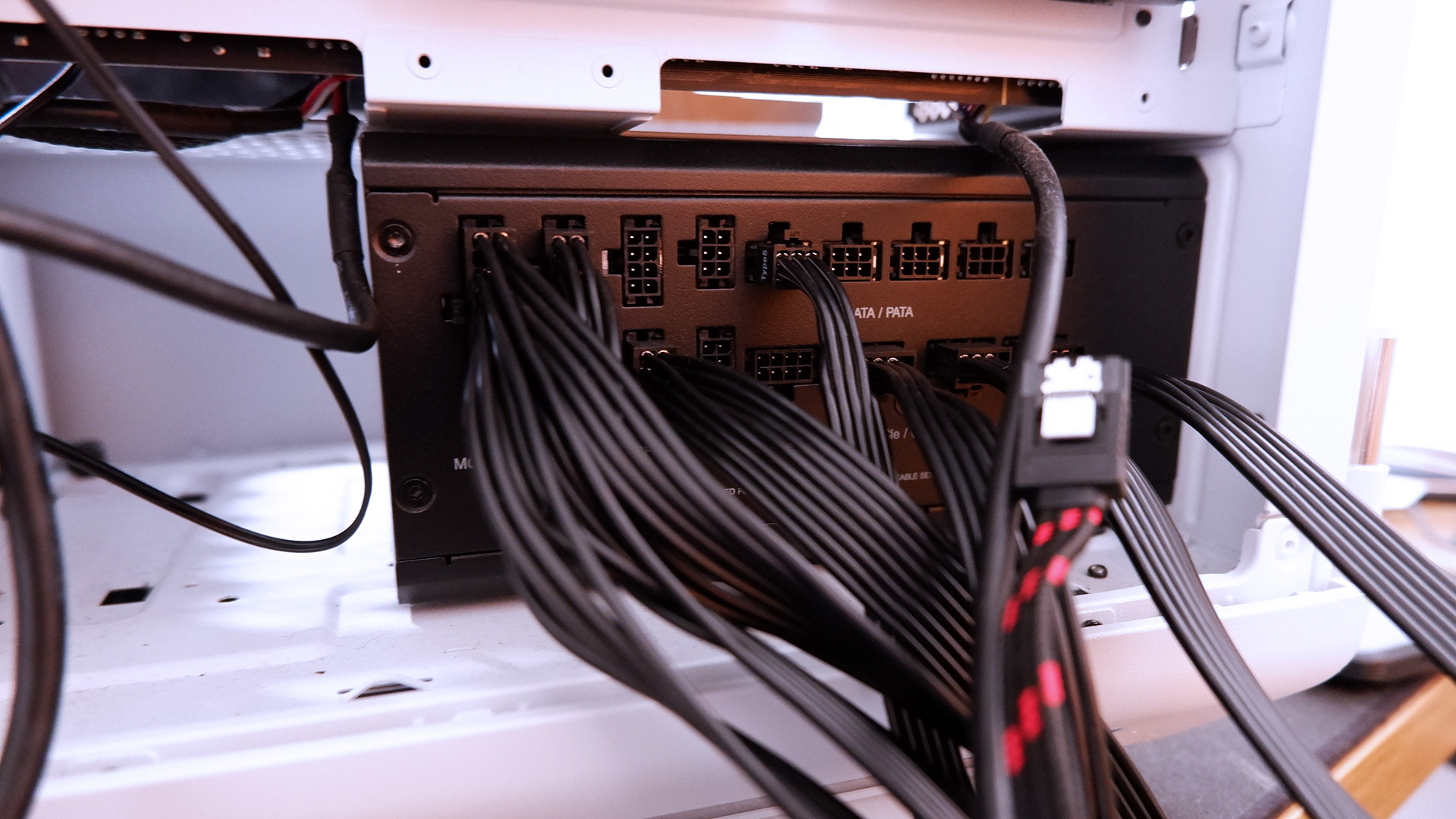 Once everything is connected, it's time to take care of cable management. Admittedly, this is not my strong point, but cable management is made easier with the simple cables running on the side of the RM1200x SHIFT. The nasty CPU power cable is less of a stretch, which solves one of my bugs, and plugging in a different SATA cable for easier access to my rear-mounted SSDs is a piece of cake.
I finished in an amazing time, and more impressively, I'm not cursing the cable or the missing connector at the end of it. The whole building process is very simple and the offset power connectors are definitely easier.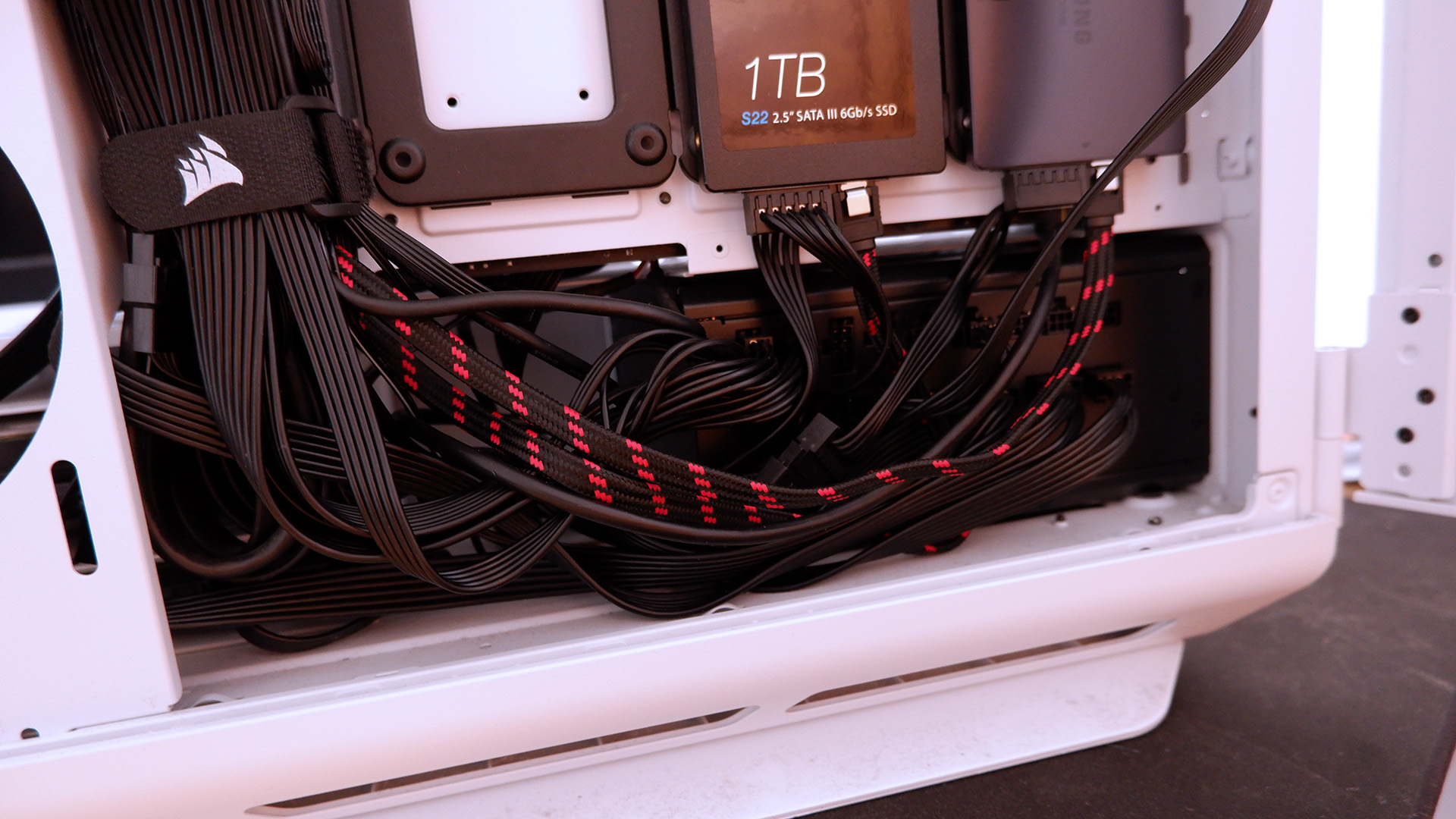 You don't have to bend the cables as much to conveniently close the side panel, which was part of the design I was initially concerned about due to the development of the 12VHPWR connector (opens in a new tab). If you are going to choose this power supply, you must pay special attention to the gap between the power supply and the side panel to ensure that the same applies to your version.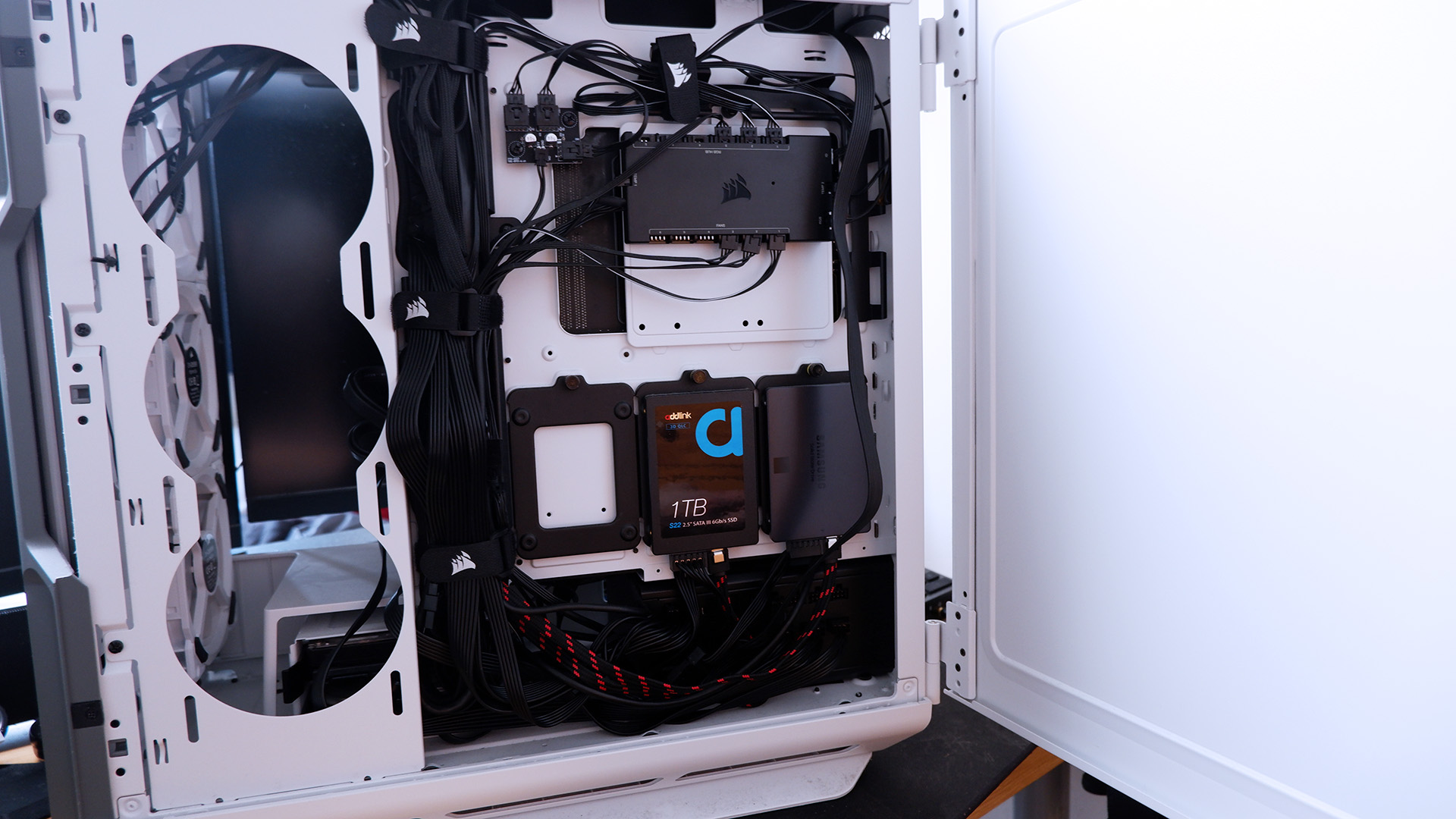 What started out as a fun concept initially excited me as I became a definite fan of it. This whole power supply swap was without a doubt the easiest to date, and if you regularly rip out components like me, the RM1200x SHIFT will still come in handy. I admit that the usefulness of this power supply depends on your case and whether you intend to change components often. If you're probably going to install a power supply once and then not touch it for five years, there's no reason to bet on a custom design like this that will ultimately limit your choice of case.
While I'm just offering something different in the world of power supplies, I'm all for the RM1200x SHIFT.