Kate Middleton's striking fashion choice at King Charles and Queen Camilla's coronation concert on Sunday featured touching symbols of patriotism and good fortune, according to a leading fashion expert.
Kate appeared with Prince William and the couple's eldest children, Prince George, 9, and Princess Charlotte, 8, at a concert where stars such as Lionel Richie, Take That and Katy Perry performed on a specially erected stage in the grounds of the castle Windsor.
Kate entered the royal box wearing a bright red sharp-cut trouser suit made by the designers of her wedding dress at British fashion house Alexander McQueen. She first donned the suit in January for the launch of her early childhood development campaign, "Shaping Us."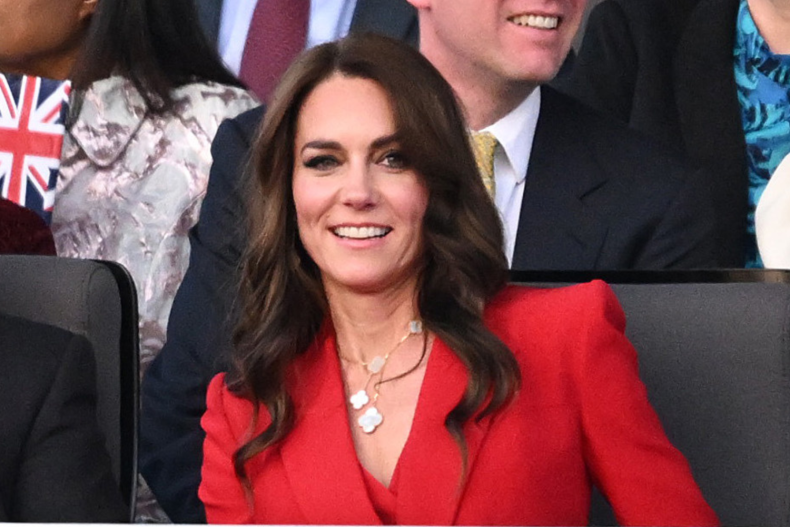 McQueen was entrusted with many of the princess's best-known creations, including the white embroidered gown she wore to Saturday's coronation at Westminster Abbey.
According to celebrity stylist and royal fashion expert Miranda Holder, Kate struck a modern chord at the concert, not only with the choice of pants, but also with the styling.
"Kate simply shone at the show this evening, re-donning her stunning crimson Alexander McQueen suit while remaining consistent in her loyalty to what has become her favorite design house," said Holder. Newsweek.
"She sported a new style of hair that fell over her shoulders in glamorous curls, making the princess look fuller and younger for the second time this weekend."
Choosing to re-wear an outfit she already has in her wardrobe, rather than a new order for such a prestigious event, could be, as Holder suggests, symbolic confirmation by the princess of the "cost-consciousness" theme running through the coronation festivities.
"The second outing for this immaculate tailoring continues the weekend's cost-conscious tone," she said, "reflecting a more modern King Charles monarchy, with crown jewels, crowns and tiaras that have been swapped for botanical-inspired fabric headwear and slimmed down a gathering of around 2,000 people, unlike the approximately 8,000 people who attended his mother, Queen Elizabeth II."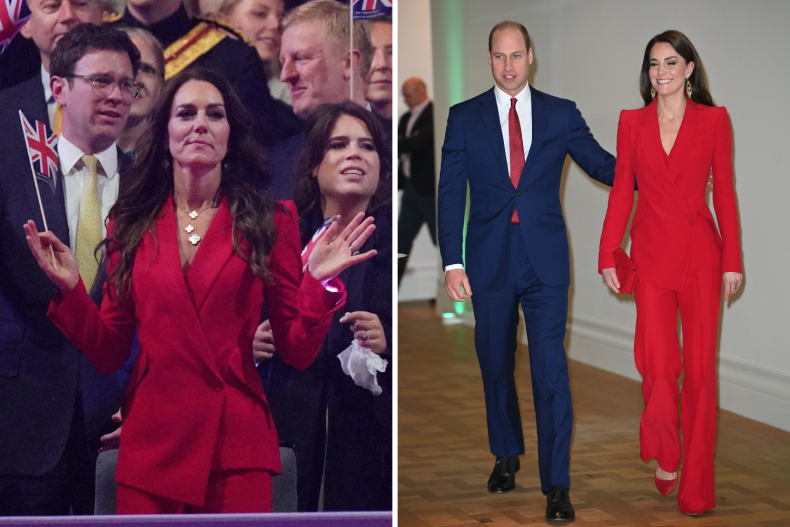 Not only was the decision to don the outfit again a symbolic gesture in Kate's coronation concert fashion, the princess' choice of jewels and color also had a hidden meaning.
"The princess wore a stunning Van Cleef & Arpels gold mother-of-pearl necklace, also worn again, in the shape of several four-leaf clovers," explained Holder. "No doubt a sweet message, wishing the newly crowned king all the best in his reign. It is well documented that the couple share a close bond and Kate, as a very obedient daughter-in-law and mother of Charles's grandchildren, would no doubt support the King in any way she could."
The four-leaf clover is a traditional symbol of good luck and was also part of Queen Elizabeth's coronation when her dressmaker, Sir Norman Hartnell, sewed a hidden shamrock into her coronation gown in a position where she would naturally rest her hand for good luck.
In addition to this, Kate's appearance also struck a patriotic theme when viewed alongside children.
"Kate was sitting next to an excited Prince George in a blue suit and Princess Charlotte in a pretty white dress with a Peter Pan collar," said Holder. "Family [were] showing their familiar united front in coordinated colors, this time in patriotic red, white and blue. What could be more fitting?!"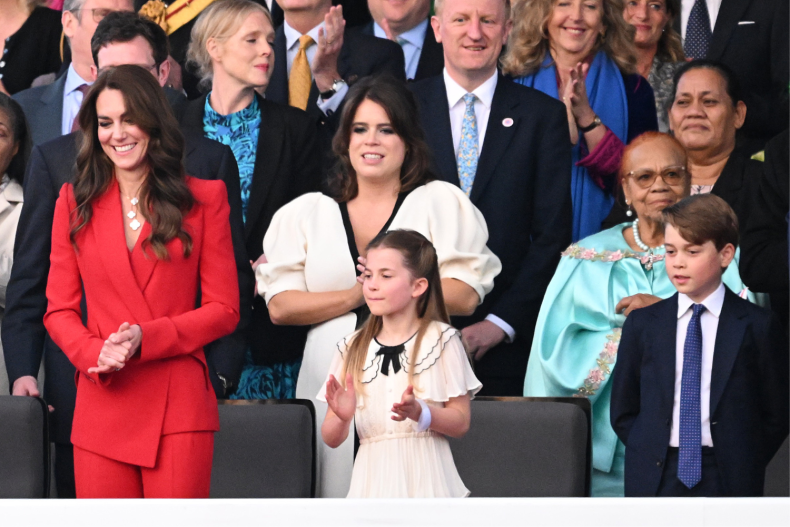 Princess Charlotte's gown was designed by Kate's other favorite fashion label, Self-Portrait, which the Queen wore to her pre-coronation evening at Buckingham Palace, where she was photographed alongside First Lady Jill Biden and First Lady of Ukraine Olena Zelenska.
Charlotte's Self-Portrait Dress is crafted with layers of pleated chiffon and retails for $305.
The little princess wearing a brand her mum loved for the concert follows a similar event that occurred during the coronation itself.
For the occasion, at Westminster Abbey, Charlotte was dressed in a matching white embroidered design with a crystal headdress, like her mother in the Alexander McQueen movie.
James Crawford-Smith is Newsweek a royal reporter living in London. He can be found on Twitter at @jrcrawfordsmith and keep reading his stories Newsweek Royals Facebook page.
Do you have a question about King Charles III, William and Kate, Meghan and Harry or their family that you would like our experienced royal correspondents to answer? Email royals@newsweek.com. We'd love to hear from you.